10,000s owed refund of deputyship fees – how to claim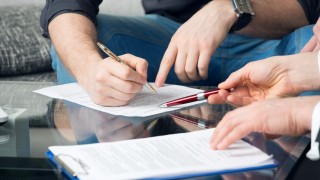 More than 80,000 people who have had deputies appointed for them by the Court of Protection are owed refunds of £240 on average – here's how to check who is owed.
The refunds are being offered to those who paid for a deputyship assessment or annual supervision in England or Wales between 1 April 2008 and 31 March 2015.
£20 million is due in total – though of course some may be owed refunds which are much higher or lower than £240, and the Ministry of Justice says that in practice most will get less than £200.
A similar refund scheme was announced for Power of Attorney fees last year, see our guide for more info.
What are the refunds for?
Deputyship is when someone is authorised to make decisions for someone who 'lacks mental capacity' – for example, because they have dementia and are unable to make decisions for themselves.
Unlike a Power of Attorney – where someone who is still able to make decisions nominates a friend or family member to take responsibility if they were to lose capacity in future – a deputy is appointed by the Court of Protection to look after the affairs of someone who's already lost capacity but didn't have a Power of Attorney in place.
Once a deputy is appointed, an assessment fee – currently £100 – and an annual supervision fee must be paid to the Office of the Public Guardian. This fee is currently £320 a year for general supervision, though some can pay a reduced fee of £35 a year if they're managing less than £21,000 and need a lower level of supervision.
But 82,000 people paying these fees were overcharged between April 2008 and March 2015. The Ministry of Justice says that the number of deputyships has risen faster than expected, making it difficult to predict costs accurately. As a result, over a seven-year period the fees charged didn't match how much it actually cost the Office of the Public Guardian to supervise deputies.
How do I claim a refund?
How much you'll be refunded will depend on how much you paid in fees and at what rate, as well as how long you paid for and whether you have any unpaid fees. Refunds will include 0.5% interest on top of the amount that was overpaid.
If you're a deputy acting under a current court order and have been overcharged, you won't need to do anything as the refund will be paid automatically into the relevant bank account.
But if you formerly had a deputy but now make your own decisions, or you're acting on behalf of someone who had a deputy and has died, you'll need to apply for the refund by 4 October 2022.
To apply, you'll need to complete a form and send it by email to deputyshipfeerefunds@justice.gov.uk with 'Deputyship fee refund application' as the subject, or by post to Deputyship Fee Refunds, Office of the Public Guardian, PO Box 10796, Nottingham, NG2 9WF.
As well as the form, you'll need to include evidence for your claim:
Proof of your name. This could be a copy of your current passport, birth or adoption certificate, current UK or EEA photo drivers' licence (not a provisional licence), identity card or benefit documents.


Proof of your address. This could be a copy of a utility bill (not a mobile phone bill) from the last 12 months, a current council tax bill, a bank, building society or credit union statement from the last three months, an original mortgage statement issued for the last full year, or a tenancy agreement for the current year.


Proof of your right to apply, if you're claiming for someone who's died. This would be a copy of a grant of probate if you're the executor, letters of administration if you're the administrator, or a death certificate if you're a family member.
If you're struggling to fill in the form, you can contact the helpline on 0300 456 0300, and choose option six. It's open on Monday, Tuesday, Thursday and Friday from 9am to 5pm, and Wednesday from 10am to 5pm. Remember that if you apply through the helpline you'll still need to send evidence in separately.
If you're due a refund you'll be paid by cheque, though you can include your bank details in your application if you'd rather be paid by bank transfer. If you're claiming on behalf of someone who's died, the refund will be divided between the beneficiaries of their estate.
It can take up to three months to get the refund.
For all the latest deals, guides and loopholes simply sign up today – it's spam-free!
Join the MSE Forum discussion