Vodafone customers wrongly told they owe £1,000s after using phones abroad
Vodafone customers have been incorrectly told they owe £1,000s for using their mobiles abroad after a major technical blunder.
Customers of the network who are travelling overseas say they've received texts warning that they've exceeded their data allowance and will have services suspended until a payment is made. And some say they've been told they will be billed over £5,000.
Vodafone says the technical error behind the problem has now been fixed and it's working through incorrect billing messages "as an urgent priority". It says if you've been incorrectly billed you will not actually be charged.
For full help on how to avoid being caught out by hefty roaming charges, see our Cheap Mobile and Data Roaming guide.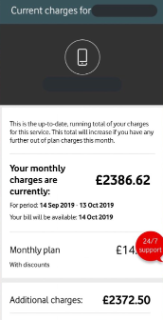 What are customers saying?
Scores of Vodafone customers have been posting on social media and emailing us to complain. The most common issues appear to be customers being told they've been charged large amounts of money for using their mobiles abroad, and having usage suspended.
One customer, James Butler, told us: "I was travelling in Italy and myself and my partner returned to the UK on Sunday afternoon. After landing, we both received texts saying we had gone over our data allowance and our services were suspended until a payment had been made.
"I managed to check our bills. Mine was £600, my partner £500. All for data used in Italy on 13 October.
"I did use the phone, but not on 13 October. My data was switched on though, so a small amount will have been used."
Another, Usama, said: "I am currently in Bulgaria, which is included in the Vodafone free roaming zone. I got a text message saying that my charges are higher than usual.
"I checked the MyVodafone app to see that they have charged me £2,372 [see the image from his Twitter account @usxma above right] for only 3.5MB of roaming, which shouldn't cost. As it was a Sunday, I had to wait about 45 minutes on the customer service line. I was finally put through to a very nice gentleman who told me that this is a mistake in Vodafone's internal system."
Usama said he then went without service for 14 hours, and was unable to contact anyone without using an internet hotspot from a friend or Wi-Fi from a cafe.
Other tweets from affected customers can be seen below:
I've been wrongly charged – what should I do?
Vodafone says the "technical error" behind the billing problem has now been resolved, but it's still "working through" the incorrect billing messages customers have been sent and correcting errors.
It says customers will not be charged, and claims you don't need to contact it as it's proactively fixing problems – however if you've received a large, unexpected bill, you may want to contact it anyway to ensure it's due to this problem rather than something else, and to confirm that the issue will be resolved. You can contact Vodafone customer services on 0808 040 8408.
I wasn't able to use my phone abroad – how do I complain?
Vodafone says anyone who has been struggling to use their phone abroad should restart it to ensure that they can access services again.
If you were unable to use your mobile abroad due to the issues and want to complain, here's what you should do:
Keep any evidence of what it's cost you. If you've been left out of pocket as a result of the outage, for example if you had to use an internet cafe because you couldn't use your data, keep any evidence such as screenshots and copies of any extra charges you've faced. Then include them with your complaint.


Complain to Vodafone. If you decide to make a compensation claim, you need to go through Vodafone's complaints procedure first, which you can do on its website.


Escalate your complaint to the ombudsman if necessary. If the complaint's still unresolved after eight weeks or you're unhappy with the outcome, you can escalate it to the Communications Ombudsman, which will assess your complaint independently. Vodafone is signed up to the ombudsman.
What does Vodafone say?
A Vodafone spokesperson said: "We are very sorry that yesterday some customers could not use data or calling services when roaming abroad. This was due to a technical error, which we have now fixed. Any affected customer should restart their phone to ensure that services are resumed.
"As a result of the issue, some customers are receiving billing messages in error – we are working through these as an urgent priority and removing any errors from customer accounts. Customers will not be charged and do not need to worry about contacting us, as we are proactively checking accounts and fixing any issues."
Vodafone also says its app is currently offline due to a high volume of customers accessing it at the same time, although it says it should be available again soon.
What are the rules on roaming charges?
You can use your UK allowance of minutes, texts and data without paying any extra charges if you are in one of 31 EU countries, including France, Italy and Spain. Some operators also cover countries outside this, so it's always best to check with your network for its full list to be sure – and check any terms carefully.
While you can't be charged for using your UK allowance in the EU, some networks have a 'fair use' policy which means it could restrict your full UK allowance – although the customers we've seen who have been affected by these charges don't appear to have used an excessive amount of data, texts or calls.
The complaints we've seen are from customers travelling in Europe – it's not clear if some who've been outside Europe are also affected. Outside Europe roaming charges can be steep, but there's still some protection for customers in place – see our Cheap Mobile and Data Roaming guide for full info.
For all the latest deals, guides and loopholes simply sign up today – it's spam-free!
Join the MSE Forum discussion