Bulb to hike energy prices by £69/yr for millions from June – but most can save £200+/yr by switching
About 1.7 million Bulb customers will see gas and electricity bills rise by an average 6.5% from next month, making its standard credit tariff just 1% cheaper than the price cap – in other words, it'll be mightily expensive. But most can beat the hikes and save £200+/yr by switching to a cheaper deal.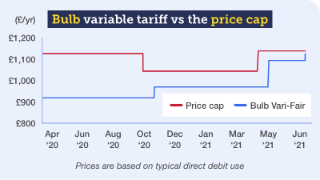 Bulb is raising the price of its only tariff for households paying by direct debit, a variable tariff known as 'Vari-Fair', by an average £69/yr (prepay rates are unaffected). It means someone on typical use will pay £1,126/yr, compared to the price cap of £1,138/yr, and Bulb will now be charging almost the same as a standard variable tariff from the big six.
It's the second price rise from Bulb in the last few months, after the supplier announced a £91/yr price hike back in March.

Most can beat the hikes by switching though – do a full market comparison via our free Cheap Energy Club where you'll see deals that are £200+/yr cheaper based on typical use. While this rise takes effect from 21 June, as it takes about 17 days for a switch to go through, do it now so it'll be sorted before it kicks in.
I'm with Bulb – how will my prices change?

If you're with Bulb, here's how much your bills will rise by. Of course, what you pay will vary depending on where you live and how much energy you use. The below figures outline a typical energy user:
If you pay by direct debit, your tariff will rise by £69/yr.

Bulb's Vari-Fair tariff is currently £1,057/yr on typical use, but it's going to increase by £69 to £1,126/yr.



If you're a prepay customer,

your price won't change.

Bulb's Vari-Fair Prepay tariff will remain at £1,147/yr on typical use.
Bulb blames the price hike on increases to wholesale energy costs (what providers pay for gas and electricity), which it says are up 29% since March.
Check NOW if you can switch and save
Bulb's new price is now only an average £12/yr under Ofgem's price cap if you pay by direct debit – so many should now ditch it. The cheapest tariff for direct debit users is on average £281/yr cheaper than Bulb's new price on typical use. What's more, as Bulb's only tariff is a variable deal, you won't pay any exit fees if you do switch.
Unfortunately, as Bulb hasn't yet produced a full rate card (the prices for each region which vary), we can't do an exact comparison against the new, higher prices in our Cheap Energy Club. Therefore, your real saving is far bigger than we can show and if you don't switch, you'll pay a lot more.
While the prepay price isn't changing, most can still switch and save. The cheapest deal is a typical £117/yr cheaper than Bulb's prepay tariff. Do a full comparison and check if you can save with our Cheap Energy Club.

Struggling to pay your bill? There's lots of additional help available right now
Due to the pandemic, Ofgem has strengthened protections for energy customers, and put in place new rules to help those struggling to pay their bills.
Most importantly, your supply won't be cut off – disconnections of standard credit meters have been completely suspended, while new rules have been put in place to ensure prepayment customers get emergency or additional credit to ensure the lights stay on. For more info, see our Coronavirus Energy Help guide or check Ofgem's website for what to do if you're having difficulty paying.
What does Bulb say?
A Bulb spokesperson said: "Wholesale energy prices have doubled since this time last year, and are up by a third since March. We therefore need to increase our prices by around £1.33 per week for a typical member. They'll still be below the price cap. We pass on cost savings when the cost of supplying energy falls, so when it drops by more than £20 per year, so will our prices."
Pure Planet and others are also hiking prices
It's not just Bulb hiking prices right now – with wholesale on the rise we've seen others announce increases.
Pure Planet is hiking the price of its standard variable tariff from Tuesday 22 June. Its '100% Green' tariff will rise by an average £93/yr, to £1,087/yr based on typical use. This won't affect anyone on one of Pure Planet's fixed tariffs – although when your deal ends, you'll be rolled on to the higher priced variable deal if you don't switch.

Last week, Octopus also revealed it was increasing the price of its standard variable tariff – Flexible Octopus – by £54/yr on average. It won't affect existing customers already on this tariff, but new customers who signed up after Thursday 20 May and anyone rolling off a fixed deal from that point will pay the higher rate. For a typical household, its standard tariff is now a typical £1,086/yr, up from £1,032/yr.

The same increase and terms will affect new customers on standard tariffs of Octopus Energy's white label suppliers – ones that use Octopus' licence to supply energy. This includes Co-op Energy, Affect Energy, Ebico Living, M&S Energy and London Power.
For all the latest deals, guides and loopholes simply sign up today – it's spam-free!