M&S and Waitrose scrap 'best before' dates on fruit and veg - here's what other supermarkets are doing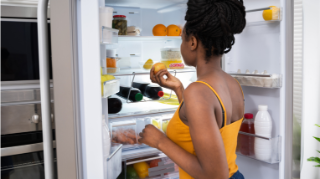 M&S and Waitrose have become the latest supermarkets to scrap 'best before' dates on fruit and veg in a bid to cut down on food waste. M&S axed the labels in July, while Waitrose will can them from September. Food can still be eaten after its best before date, yet many people throw items away in confusion. Here's what you need to know - and what other supermarkets are doing.
Around 6.6 million tonnes of food is thrown away in the UK every year, according to charity Waste and Resources Action Programme (WRAP). But knowing the difference between 'best before' and 'use by' dates is a good start to help reduce your food - and monetary - waste.
Typically, 'best before' dates don't have anything to do with food safety and are more to do with food quality, whereas 'use by' dates relate to food safety and items should usually not be eaten after this deadline. See our Free Food Saver memo for a printable reminder of the difference between different food labels, which you can stick on your fridge.
The Food Standards Agency said: "Food with a 'best before' date – which concerns food quality and not food safety – should be safe to eat after the stated date, although it may not be at its best quality. Consumers can use sensory cues to determine whether the food is suitable to eat, be that looking for visible mould on bread, tasting to see if biscuits or crisps are stale, or smelling some dairy products to see if they have soured."
For more ways to avoid food waste and to cut the cost of your groceries, see our 12 ways to STOP wasting food and drink, How to get free (or cheap) food and our Supermarket Shopping Tips. There's also further info available on the Food Standards Agency's website.
Most UK supermarkets are taking steps to try to minimise food waste
We asked the UK's biggest supermarkets what they're doing to help reduce confusion over 'best before' and 'use by' dates - here's what they told us:
| | |
| --- | --- |
| Supermarket | 'Best before' and 'use by' date policies |
| Co-op | Removed 'use by' dates on own-brand yoghurts earlier this year, suggesting shoppers "sniff test" instead. |
| Lidl | Hasn't used 'best before' dates on fruit and veg since it opened in 1994 |
| M&S | Removed 'best before' dates from over 300 fruit and vegetables in July 2022, including apples, potatoes and broccoli. Dates will be replaced with a new code that M&S staff can use to know when to remove items from shelves |
| Morrisons | Removed 'use by' dates on the vast majority of own-brand milk in January 2022, suggesting shoppers "sniff test" instead |
| Tesco | Removed 'best before' dates in 2018 on 116 items, including apples, oranges, cabbages and asparagus |
| Waitrose | Will remove best before dates on around 500 fruit and veg products from September, encouraging shoppers to use their own judgement instead |
For all the latest deals, guides and loopholes simply sign up today – it's spam-free!
Have your say
This is an open discussion and the comments do not represent the views of MSE. We want everyone to enjoy using our site but spam, bullying and offensive comments will not be tolerated. Posts may be deleted and repeat offenders blocked at our discretion. Please contact fbteam@moneysavingexpert.com if you wish to report any comments.
Update: We are aware that some users may currently be having issues seeing the comments and we're working on it.