'Lifelong loans' to launch in 2025 to help those in England wanting to study, train or retrain later in life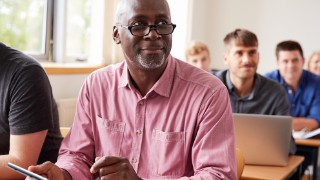 People in England aged up to 60 who want to study, train or retrain will be able to access flexible student finance to help them do so from 2025, the Government has confirmed today. The new higher education loan scheme, dubbed the 'lifelong loan entitlement', will be worth the equivalent of four years of post-18 education. Here's what we know so far.
The scheme, which was first announced in 2022 as part of a wide-ranging package of reforms to student finance, is now set to launch in time for the 2025 academic year.
The Government says the new loans will "empower more people to study in a way that works for them" – for example, by letting people balance training or studies alongside other commitments such as childcare.
For more on how student finance currently works, see our Student loans mythbusting guide.
How the lifelong loans will work
Under the plans published today, the Government set out the following details about the new scheme in England:
Starting in the 2025 academic year, you'll be able to access loans worth four years of post-18 education. This is equivalent to £37,000 in today's tuition fees. You'll be able to use this amount flexibly over your working life to suit your circumstances.


The loans will be available for full or part-time study, for a variety of courses. This will include both degrees and Higher Technical Qualifications, as well as individual modules.


You'll be able to keep track of how much funding you have left in a personal account. The Government says this will work "much like a bank account". An online portal will also let you access information about the courses and modules you can spend it on.


Maintenance loans will also be available. These will be offered across all eligible Technical and part-time courses covered by the lifelong loan scheme. While the exact level of support is yet to be confirmed, the Government says it will be "on a par with traditional full-time study".


Returning students will get a partial entitlement. The amount available will be based on the amount of any student loans you've already taken out. For example, if you previously studied a three-year degree, you should be entitled to one year's worth of funding under the new scheme, which could be used to fund another short course or module. However, the exact method of calculating what returning students will be able to get is yet to be published.


Repayments will be based on the new 'Plan 5' terms. Under the rules as they currently stand, this means you would pay back 9% of everything you earn above a certain threshold (£25,000 currently) and any remaining amount owed will be wiped after 40 years.
We've asked the Government if the scheme will be extended to cover Northern Ireland, Scotland and Wales and we will update this story when we know more.
For all the latest deals, guides and loopholes simply sign up today – it's spam-free!
Join the MSE Forum discussion
Have your say...