Local Heroes deals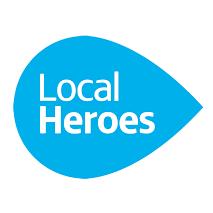 If you're in need of a British Gas-backed plumber, electrician or other tradesperson, we've a way you can get a £25 Amazon e-gift card as a bonus. You'll need to make a booking via our MSE Blagged Local Heroes* link, and once the handiwork is paid for and completed, you'll be emailed your voucher code within two weeks.

The offer will end at 11.59pm on Mon 14 Dec, or when 600 codes have been claimed, whichever's sooner. There's no minimum spend required, but do keep in mind that the voucher is just a bonus, and you do need to spend money to get the 'freebie'. It's only worth using if you were already planning to book a tradesperson.

Once you've received your £25 code, you've got until 1 Mar 2028 to spend it online at Amazon, so plenty of time. As per Amazon's standard T&Cs, the e-gift card can't be redeemed against other gift cards or Prime membership (see our 23 Amazon Buying Tips to cut costs).

What is Local Heroes and can I trust it?

Local Heroes is a directory blended with a comparison site and is part of the same company as British Gas. It connects you with local tradespeople in England, Scotland and Wales (but excludes Northern Ireland). The site has 7,000+ vetted plumbers, electricians, tilers, locksmiths, decorators and more, and claims to have 160,000+ completed jobs under its belt.

It scores an average 4.7 stars on TrustPilot, based on 11,000+ customer reviews. Check these, alongside the Google reviews on the Local Heroes site, to get a general idea of the service you should receive. All quotes are free with no obligation to book and all work's guaranteed for 12 months.

As with anything of this nature, we can't vouch for the quality of work done by individual tradespeople, so it's important to compare reviews and make an informed decision of your own. It's definitely worth asking questions to get as much info about the job as possible before accepting a quote, so you and your tradesperson are on the same page.

All complaints are handled in-house by Local Heroes, and you can get in touch via its contact form. If you need to book a repair under your guarantee, simply contact the tradesperson directly.

It's one code per customer. Each code can only be used once and can't be transferred or used with any other offers.

In some cases, your tradesperson will let you know that your job is classed as a temporary fix and won't be covered by the 12-month guarantee. This happens when they can't guarantee an aspect of the repair, such as a drain blocked by leaves (as there's no guarantee that leaves won't block it again within a year). Your quote will state whether your fix is temporary and your tradesperson should tell you and get your approval before beginning the work.

You can cancel a job without incurring any charge any time up until you accept the quote. The 'cancel' button can be found when you click on the job link in any emails or texts sent to you by Local Heroes.

The e-gift code is subject to Amazon's standard terms and conditions.


Get Our Free Money Tips Email!

For all the latest deals, guides and loopholes - join the 12m who get it. Don't miss out
'Free' £25 Amazon voucher with British Gas-backed tradesperson booking

Via Local Heroes. No min spend. Excl Northern Ireland

If you're looking to engage the services of a British Gas-backed plumber, electrician or other tradesperson, we've a way you can bag a £25 Amazon e-gift card at the same time. Make your booking via our Local Heroes* MSE Blagged link and, once the handiwork is paid for and completed, you'll get the voucher code by email within two weeks. The offer will end on Wed 18 Dec, or when 600 codes have been claimed, whichever's sooner.

While there's no minimum spend required, we reckon it's unlikely you'll 'profit' from this deal – so it's just a bonus, effectively a discount on work you'd already planned to have someone do. Once you receive your £25 code, you'll have until Sun 1 Mar 2028 to spend it online at Amazon. As per Amazon's standard T&Cs, the e-gift card can't be used to buy other gift cards or Prime membership (see our 24 Amazon Buying Tips to cut costs).

What is Local Heroes and can I trust it?

A bit like the Yellow Pages blended with a comparison site, Local Heroes, part of the same company as British Gas, helps connect you with local tradespeople (in Eng, Scot & Wales but excluding NI). The site boasts 7,000+ vetted plumbers, tilers, locksmiths, decorators and more, and claims to have 100,000+ completed jobs under its belt. It scores an average 4.5 stars on TrustPilot, based on 7,500+ customer reviews. These - as well as Google reviews on the Local Heroes site - give you a general idea of the service you should receive. All work's guaranteed for 12 months and all quotes are free with no obligation to book.

As with anything of this nature, we can't vouch for the quality of work done by individual tradespeople, so it's important to check reviews and make your own decision. It's a good idea to ask questions and provide as much info about the job as possible before accepting a quote so you and your tradesperson are on the same page.

All complaints are handled by Local Heroes in house, and it has a contact form you can use to get in touch. If you need to book a repair under your guarantee, simply contact the tradesperson directly.

It's one code per customer. Each code can only be used once and can't be transferred or used with any other offers.

In some cases, your tradesperson will let you know that your job is classed as a temporary fix and won't be covered by the 12-month guarantee. This happens when they can't guarantee an aspect of the repair, such as a drain blocked by leaves (as there's no guarantee that leaves won't block it again within a year). Your quote will state whether your fix is temporary and your tradesperson should tell you and get your approval before beginning the work.

You can cancel a job without incurring any charge any time up until you accept the quote. The 'cancel' button can be found when you click on the job link in any emails or texts sent to you by Local Heroes.

The e-gift code is subject to Amazon's standard terms and conditions.