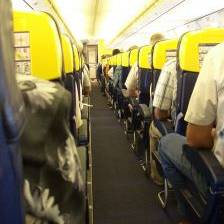 Ryanair has modified its website so its multitude of extra charges and booking conditions are more visible to flight bookers.
The budget airline made the changes, it was announced today, after pressure from the Office of Fair Trading (OFT). Last year, the Advertising Standards Authority watchdog referred the airline to the OFT following complaints.
Critics think the changes do not go far enough and consumers still need to keep their wits about them when booking.
Ryanair has often been accused of failing to clearly state the true price of flights by not prominently displaying baggage, check-in and payment costs.
Climb-down
Ryanair has made three main changes:
It now backs-up its 'Price Guarantee' promise with more thorough terms and conditions. Under the promise, Ryanair sometimes pays holidaymakers double the difference between its fare and a cheaper equivalent.
It now displays a more prominent link on its website explaining its extra charges.
It gives greater prominence to information about promotional offer terms and conditions, such as when advertised prices are not available.
Archna Luthra, MoneySavingExpert.com travel analyst, says: "While Ryanair can often be cheapest, the lack of transparency on charges only annoys and confuses punters.
"While the changes are positive, there are still plenty of ways to get burnt on the other optional charges."
Booking tips
To find the best budget airline fares, the Flightchecker lists the cheapest fares (including most taxes).
Though when booking a budget airline flight, you're only guaranteed the price first quoted if you check-in online, take hand luggage only and pay by Visa Electron card. Otherwise, you pay more.
However, the latter option is not available to millions of holidaymakers who simply do not have this type of card.
You're often charged for airport check-in, checking-in baggage, priority boarding and on-board snacks. Keep an eye on our weekly email for the budget airline tricks article coming shortly.
More flight-booking tips are in the Cheap flights guide.
Some airlines also automatically opt you into their travel insurance scheme so make sure you untick the relevant box.
It's much cheaper to buy insurance independently, as the Travel insurance guide explains.
A Ryanair spokesman says: "The EU has ruled that our website is easy to use."
Further reading/Key link
Top flight-booking tips: Cheap flights guide
Find budget airline fares: The Flightchecker