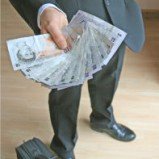 You can earn a £100 bonus by switching your current account to either Abbey or Alliance & Leicester (A&L).
If you take advantage of the incentive, which begins on Monday, you'll also bag an interest-free overdraft from either of the pair, both part of Spanish banking giant Santander (see the Best Bank Accounts guide).
Specifically, you must apply for either the Abbey Preferred Overdraft Rate Account or the A&L Premier Current Account and pay your salary or pension in every month.
The A&L deal was already the top account for those regularly overdrawn, so the £100 sweetener makes it an even better deal.
The move was first revealed by MoneySavingExpert.com last weekend (see the £100 switching bonus to return MSE News story).
Both accounts offer a 0% overdraft rate for a year (then 12.9% with Abbey or 50p per day via A&L), though you'll only get that facility if you meet Santander's credit scoring requirement.
You must deposit at least £500 per month (A&L) or £1,000 per month (Abbey).
You'll get the tax-free cash within 11 weeks of account opening if you move direct debits and standing orders from your existing current account via either provider's 'Account Transfer Service'.
The reason the A&L account trumps Abbey is not just the lower minimum payment requirement, but it also provides annual European travel insurance for the under 65s.
Anyone who has had a current account during the past three months with Santander-owned Abbey, A&L, Cahoot or Cater Allen is ineligible for the £100 bonus.
A&L has twice run this same promotion this year, though only for a few weeks each time.
Alternative accounts
A&L wins hands down for those regularly overdrawn and is also this site's top pick overall.
However, those regularly in credit have two further options:
Those earning over £23,000 a year who pay their salary in can get paid £100 by signing up to First Direct's 1st account. The account is often acclaimed for excellent customer service on this site's forum but does not come with the travel insurance perk that A&L provides.

The Halifax and Bank of Scotland reward accounts pay £5 a month after basic rate tax if you deposit a minimum £14,700 salary, regardless of balance. While beaten by First Direct and A&L in year one, the £5 payment is ongoing so offers long-term value.
Further reading/Key links
Top accounts guide: Best Bank Accounts
Boost savings: Top Regular Savers