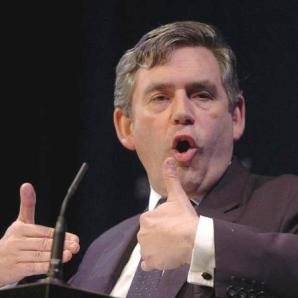 The Prime Minister has called on current account providers and the regulator to urgently "negotiate" to prevent payout delays if bank charges are ruled unfair.
Gordon Brown (pictured, right) spoke out on overdraft penalty charges for the first time in a letter to MoneySavingExpert.com received today (reprinted in full below).
This came after site founder Martin Lewis wrote an open letter calling for the Labour leader to support this site's campaign to ensure automatic payouts for those hit by unfair fees of up to £39 a time for exceeding their overdraft limit.
The PM has asked all sides to ensure speedy compensation if the Supreme Court next month confirms earlier rulings that fairness rules apply to these fees.
If they do apply, the Office of Fair Trading (OFT) will decide whether charges actually are unfair, though it's already provisionally said it thinks they are unjust.

Already, over a million reclaim cases are on hold, with more expected to join the queue (see the Bank Charges guide for free reclaiming template letters).
The steer from Number 10
Martin Lewis was also called by a senior Number 10 aide today, and afterwards said: "This is a major signal bank charges has been pushed up the Government agenda.
"Assuming the Supreme Court rules that fairness rules apply, as the OFT's already indicated it believes charges are unfair, it's game on.

"Yet the worry is banks will mount a further legal challenge to the OFT's ruling, traipsing through the courts again, and this is where the PM comes in. By pushing for a negotiated settlement we could get a quick solution.

"This type of settlement will mean reclaimers won't need to go to court or the Ombudsman. They will simply be able to write to their provider and request a payback.

"While still a triumph, I believe it should go further still. As banks unfairly took people's money without asking, they should be given it back without asking, otherwise we risk the illiterate or financially-phobic missing out. Other parties have gone further."
All party leaders have spoken out
Brown is the third of the three major political leaders to respond to MoneySavingExpert.com's request to state their bank charges policy and support swift recompense.
Tory leader David Cameron said last month compensation should be quick and that he will consider automatic payback of all charges (see the Tories' bank charges pledge news story).
And Lib Dem leader Nick Clegg has agreed to table a Parliamentary motion calling for automatic payouts, if charges are ruled unfair (see the Lib Dems bank charges action news story).
Gordon Brown's letter to MoneySavingExpert.com (click image below for full text)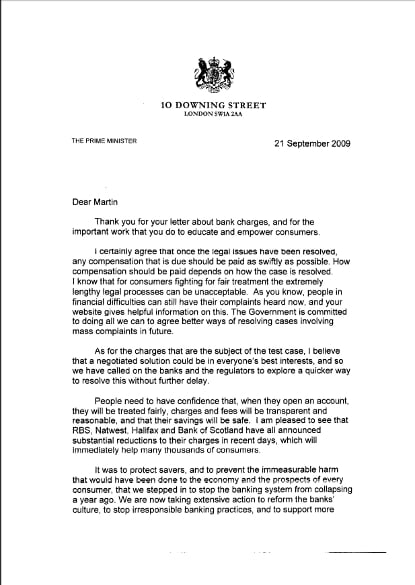 What is a fair settlement?
If a negotiated settlement is to happen, MoneySavingExpert.com calls for the inclusion of the campaign groups that have been helping consumers get charges back. Over six million free template letters have already been downloaded from this site alone (download one from the Bank Charges guide).

While some campaign groups are calling for charges to go back 15 years, plus restituionary damages (see the radical bank charge reclaiming blog), to get a quick and easy payout for the millions affected, as a provisional stance, the following seems fair:
All current charges slashed to a fair level.

This is likely to happen anyway as a result of the OFT ruling. Some major banks have agreed to reduce charges already (see Bank Charges slashed by RBS/NatWest and HBOS MSE News stories).


Bank charges since July 2001 repaid.

In July 2007, when the FSA imposed the bank charges reclaiming hold, it said the clock stopped. As the normal time limit on court claims is six years, people should be able to claim most of their charges back to July 2001.


People should get back their charges minus £2.50.

The bank charges campaign is about fairness; the law says charges should reflect the actual cost to the company, and £39 is far too high.

A fair figure of £2.50 was calculated after an intense study by a professor of banking. Therefore, people should get back what they were charged minus £2.50 each time, plus statutory interest of 8% a year (the figure the court imposes).

At roughly this level, MoneySavingExpert.com believes an agreement to protect the banks from further legal challenges over charges would be legitimate, and the right thing to do.

Yet it's important all campaign groups, including as Consumer Action Group, Which?, Penalty Charges and Legal Beagles work together to nail down a consensus, much as happened with the bank charges fighting fund.

Where are we now?

Since the July 2007 announcement that a test case would take place, bank charges reclaiming has been on hold for most.

It's estimated over £1 billion was paid out to charges victims before the hold.

The High Court and Court of Appeal have already ruled that fairness rules apply to bank charges, with the Supreme Court now considering the latest appeal.

Despite the hold, current account providers must still hear your case if you have serious financial problems (see the Bank Charges Hardship guide for template letters).