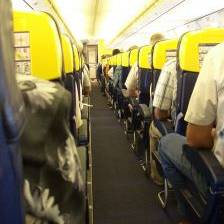 STOP PRESS (Friday, 4 September): Ryanair has extended the sale until midnight tonight
Ryanair is running a 1p flight sale to a host of destinations. But you'll need to hurry as the promotion ends at midnight tomorrow.
You'll also need to be fees-savvy to actually pay 1p per leg because Ryanair, like most budget airlines, hits unsuspecting bookers with a host of additional charges (see the Ryanair Flight Sale and Budget Airline Fee-Fighting guides).
If you're not careful, the total additional charges for a family of four on a Ryanair 1p each way sale deal, paying by debit card, taking two suitcases (not pre-booked) with airport check-in would be £440 for a return trip.
To only pay 1p, you must check-in online, ensure you do not accidentally buy insurance from the airline, pay with a Visa Electron card and take hand luggage only.
Destinations
The 1p flights are available on routes from 13 UK airports to cities including Dublin, Milan and Pisa. You'll pay £9.99 each way to other destinations, such as Berlin and Rome.
The £5 online check-in fee, usually charged on all flights, is being waived on all 1p flights and some other promotional fares.
Ryanair says you should check the fare states 'free online check in' during the booking process to determine whether or not you'll face the additional charge.
Travel dates
Ryanair's sale includes travel up to 27 March but only on selected days.
For instance, the offer excludes travel from the UK and Ireland at the start of the October half-term period (23-25 October) and returning to the British Isles at the end of half-term (30 October to 2 November).
Further reading/Key links
Slash flights costs: Ryanair Flight Sale and Budget Airline Fee-Fighting
Find cheap air travel: Flightchecker