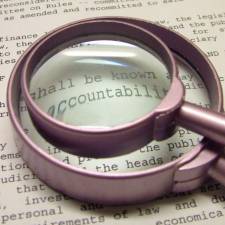 Current account customers will be given much clearer information on the charges they can expect to pay after an agreement was reached between providers and the authorities.
Consumers must be told every year how much they have paid in charges and how much has been paid to you (normally in interest) during the previous 12 months, so the net cost or profit of holding an account is clear.
Banks and building societies will also have to reveal your average balance to help you determine the value of switching. Some accounts are more suited to those regularly overdrawn and some to those in credit (see the Best Bank Accounts guide).
The Office of Fair Trading, which announced today it has reached an agreement with banks to implement the new regime, stresses this is separate to its review on the fairness of overdraft penalty fees (see the Bank Charges reclaiming guide).
The measures, it adds, have been finalised and will come into effect gradually, though there is no concrete launch date.
However, the OFT says statements detailing a list of charges paid may not be made available until 2011, which has disappointed critics.
These plans follow the OFT's 2008 market study which found consumers were not being made aware of the full scale of bank and building society fees, while many experienced problems when switching accounts.
The measures outlined
Customers will be given an annual statement explaining how much they have paid in interest and charges over the year and the amount they have been paid by their bank or building society.
Providers will have to display your average credit or debit balance.
Charges will be more prominent on statements.
You will be told, based on specific illustrative scenarios, the likely cost of going beyond your overdraft limit.
The OFT will also allow consumers to compare costs of different accounts through a set of tools on its Consumer Direct website, (see the Best Bank Accounts guide to find the top accounts).
Dan Plant, MoneySavingExpert.com money analyst, says: "The drawn-out timescale is disappointing, and it's to be hoped the increased clarity from banks won't stop here.
"We've highlighted the need for extra information for consumers before with our Savings Summary Box campaign. The move towards transparency is positive, as customers need the maximum information to make the right financial choices."
Consumer Minister Kevin Brennan has welcomed the measures.
He says: "These new guarantees represent a boost for consumers. People deserve an upfront and clear service.
"We need to do more to help hard-pressed consumers take control of their finances. The Government will publish plans soon to tackle problems in the credit and store card industry."
Pledge to switchers
In addition, the OFT says providers have reaffirmed a previous commitment to improve the current account switching process.
The chief gripe from consumers concerns unpaid direct debits (DDs) when, for example, they are still coming from an old account, though a person's salary is being paid into their new account (see the Direct Debir Audit guide).
The OFT says it has sought assurances from providers, and utility and communications firms that all parties will aim to switch DDs as soon as possible.
Bank charges latest
The Supreme Court is set to rule any day now whether bank charges can be assessed for fairness by the OFT.
If they can be, the result of the OFT's separate study into the fairness of charges will determine whether the current reclaiming hold will be lifted (see the Bank Charges reclaiming guide).
Further reading/key links
Top accounts: Best Bank Accounts
Reclaim cash: Bank Charges
Inflation-beating savings rates: Savings Accounts