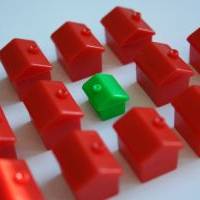 Mortgages lenders are making it a little easier for those with smaller deposits to get a cheap homeloan, according to brokers.
An investigation for MoneySavingExpert.com by fee-free broker London & Country (L&C) shows many of the best deals at present are available to those borrowing up to 70% or 75% of a property's value (see the Cheap Mortgage Finding guide).
From tomorrow, the UK's largest building society is making many of its top deals available at these levels.
A few weeks ago, you could only get the best rates if borrowing up to 60% loan to value (LTV).
That would have required a £60,000 deposit, or equity, on a typical £150,000 mortgage, whereas you may now need a £37,500 or £45,000 deposit (see the updated Remortgage Guide).
While still hefty sums, they are at least a little less than previously.
It's not all good news for borrowers with small deposits, though. Despite the loosening of criteria, the market is a long way from the pre-credit crunch days when you could borrow 90% LTV or higher to get the table-topping deals.
And if you need to borrow more than 75% LTV now, you're unlikely to even get a half-decent rate, let alone the best deals.
In addition, the cost of all mortgage deals has generally risen over recent months, despite lenders' borrowing costs having slumped.
Chinks of light
From tomorrow, Nationwide Building Society is offering some deals previously only available at 60% LTV to those at 70% and 75%. Abbey and Woolwich have also made similar moves recently.
L&C says Nationwide's deals, while not necessarily market-leading, represent good value.
Richard Morea, from L&C, says: "Nationwide's move is good news for borrowers. It reflects the fact house prices are stabilising and lenders are becoming more comfortable lending at higher LTVs.
"Deals at 75% LTV are market-leading in some cases. But even where they're not, they are not as far removed from the leading deals."
Top deals
The broker has pinpointed a number of categories where the best deals, as of today, are available to those borrowing up to 70% or 75% LTV. They are:
Two-year fixed rates. ING offers 3.84% at 75% LTV with a £595 fee. You can get a seemingly-cheaper 2.99% from Halifax at 60% LTV but it comes with a fee of 2.5% of the property value. On a £150,000 mortgage, the ING deal costs £19,280 over two years, says L&C, compared to £20,803 via Halifax, assuming the fee is paid up-front.


Two-year trackers. ING offers 2.79% with a £795 fee, up to 75% LTV.


Three-year trackers. Abbey offers 2.99% with a £995 fee up to 70% LTV (remortgage only).


Three-year fixes. Leek United offers 4.19% with a £999 fee up to 75% LTV.
However, mortgages are complicated products so the absolute cheapest deal on paper may not necessarily be the best for your needs. Therefore, it's worth getting whole-of-market advice if you know little about the market (see the Cheap Mortgage Finding guide).
And to get a homeloan you also need a virtual spotless credit history (see the Credit Rating guide).
Lenders say their criteria is always subject to review so the current conditions could alter at any time.
A Nationwide spokeswoman says: "These moves are the result of an ongoing review and could be adjusted in future as the environment changes."
Brighter outlook
Also today, the Bank of England said the overall availability of mortgages fell during the three months to September, but lenders expect the situation to improve going forward.
Paul Samter, economist at the Council of Mortgage Lenders, says: "There have been recent signs of an improvement in wholesale funding conditions (from where lenders borrow money).
"There is a notable pick-up in lenders' expectations that this will continue in the next three months."
Further reading/Key links
Mortgage cost-cutting guides: The Remortgage guide, Mortgage haggling, Cheap mortgage finding, Ditch my fix?