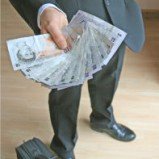 Nationwide has revived its £50 bonus paid to those who make its FlexAccount their main current account.
The sweetener applies to those who already use the account as their core banking facility and transfer more direct debits or standing orders over.
The UK's largest building society is thought to be targeting the throngs of consumers who have the account for its overseas spending perks but do not widely use it otherwise.
Switchers from rival banks or building societies will also earn £50 by applying and moving their payments over.
However, if you're on the look-out for a new account, the Nationwide offer can be beaten, unless you're a high overseas spender (see the Best Bank Accounts guide).
If you qualify for the £50 bonus, you'll get the cash eight weeks after the paperwork is complete.
The offer, which was temporarily available during the summer and revived this week, ends on 29 October.
How to grab the cash
Existing account holders must sign-on to their internet banking account (or register first) and submit an 'Authorisation for a Current Account Transfer' form by selecting 'Transfer all my payments for me'.

New customers must apply for the FlexAccount online and when given the chance, choose 'Option A – Transfer all my payments'.
Dan Plant, MoneySavingExpert.com money analyst, says: "For existing customers, this is a nice little earner, handily supplementing its best-buy overseas spending features.

"Yet if you haven't got one of these accounts already, it's a more fiddly deal, requiring you to totally switch your banking. Unless you're a huge overseas spender, other accounts beat this."
What's in the smallprint?
You must apply or transfer payments online, and sign-up to Nationwide internet banking, if not registered.


You must switch all direct debits, standing orders and bill payments from your nominated account to the society via its official transfer method. If you do not have any payments to transfer, or you move them yourself, you won't get the cash.


Existing customers with some direct debits or standing orders already set up will also get the bonus if they transfer the full set from elsewhere.


If you cancel your account before the eight weeks is up, you won't get the money.


The offer is not available to those with the society's Cash Card account or those who do not qualify for a debit card.
Best current accounts
If you're looking for a better deal, there are a number of top accounts, depending on your circumstances.
If you're regularly in credit:
Alliance & Leicester's (A&L) Premier Account offers a £100 sign-up bonus, a 0% overdraft for 12 months and annual European travel insurance for the under-65s, if you earn over £6,050 a year and pay your salary in.


Those earning over £23,000 a year who pay their salary in can get paid £100 by signing up to First Direct's 1st account.


The HBOS Reward account pays £5 a month after basic rate tax if you deposit a minimum £14,700 salary, regardless of balance. While beaten by First Direct and A&L in year one, the £5 payment is ongoing. However, if you slip into an authorised overdraft it can be expensive. You're charged £1 per day while in the red, and £2 per day if the debit balance is over £2,500.


The Nationwide FlexAccount is the best current account for use abroad but is only the top overall current account if you spend over £1,800 a year in Europe or £3,000 elsewhere (with the £50 bonus factored in). It charges no cash withdrawal fees worldwide and no commission on European transactions, though a 1% commission fee applies outside most European countries. Most other cards charge 3% commission, adding £30 to a £1,000 spend. Some also charge a separate £1.50 per purchase.


If regularly overdrawn:
Because of the 0% overdraft and £100 sign-up bonus, the A&L Premier account is best for those in the red, though you'll need to meet the bank's credit score criteria to get a borrowing facility.

If you're regularly over your agreed limit, do a budget to keep track of your money using the Budget Planner tool. If you're in dire straits, read the Debt Help guide.
Further reading/key links
Top accounts: Best Bank Accounts
Overseas spending: Cheap Travel Money
Best savings rates: Savings Accounts