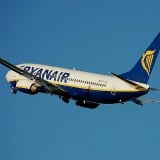 Ryanair will charge passengers to book flights using a Visa Electron card from next year, ending the fee-free payment method for up to 20 million travellers.
Anyone using this card type will soon be slapped with a £5 per leg demand (see the Budget Airline Fee Fighting guide).
Many Ryanair regulars have applied for an Electron card as using one has been the only way to avoid a fee for paying since 2003. The airline says roughly a third of its 60 million passengers use this plastic to book flights.
Standard credit and debit cards attract a £5 per person, per flight charge (£10 for a return), but Electron cards will be added to this list from 1 January.
Fee free card
From tomorrow, you'll be able to avoid a fee for the privilege of paying if you use a Mastercard prepaid card, and from next year, this will be the only fee-free payment type.
The Ice Travellers' Cashcard is currently our top pick prepaid Mastercard (the Beat Budget Airline Fees guide is being updated to include that plastic).
Daniel Lawrence, MoneySavingExpert.com consumer products analyst, says: "This is another example of Ryanair making it difficult for passengers to avoid charges. It has moved the goalposts given many would have already got a Visa Electron card to beat the charge.
"It's not all bad news as savvy consumers can still bypass the fee, but it adds complication to what should be a simple process."
Ryanair can get away with advertising flight prices without the payment fee because it is technically an optional charge given it is avoidable, even though it's only avoidable for a minority.
The airline adds a host of other fees to unsuspecting bookers including charges to check in and to check bags in.
However, check-in and payment fees are sometimes waived on promotional flights that start from 1p each way.
Stephen McNamara, from Ryanair, says: "We are pleased to announce our new partnership with Mastercard which will enable consumers to save even more when travelling on Ryanair's unbeatable low fares."
Further reading/Key links
Slash flights costs: Ryanair Flight Sale and Budget Airline Fee-Fighting