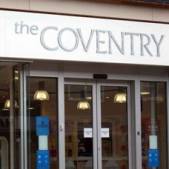 Coventry Building Society has revealed today it will swallow up Stroud & Swindon (S&S) Building Society in the latest mutual merger.
The expanded society, with 1.5 million members, will be called Coventry Building Society. The merger is expected to be complete in September.
The move follows regulatory approval for the merger of Yorkshire and Chelsea societies earlier this month. Last year, Nationwide swallowed up Dunfermline BS.
So, what does the Coventry/S&S tie-up mean for customers?
What happens to savers?
Around 165,000 S&S savers will have their rates hiked to match equivalent products offered by Coventry from September.
The remaining 80,000 S&S savers who are earning better rates than those available via Coventry will maintain their rate.
If you're currently on a poor rate, switch if your money is not locked away as there is no guarantee what Coventry will offer on many of its products later this year (see the Top Savings guide).
What happens to savings compensation limits?
Anyone with a Coventry and S&S savings account currently has £50,000 per person protected in each were either to go bust.
They will maintain that double protection until 30 December, after which they'll get £50,000 combined (see the Safe Savings guide).
What happens to borrowers?
Anyone on a fixed rate or tracker mortgage will maintain their product terms until the deal expires (see the Cheap Mortgage Finding guide).
But those linked to or paying the S&S standard variable rate (SVR) of 5.99% will move to Coventry's lower SVR of 4.74% following the merger in September.
Assuming rates remain the same, anyone on a £150,000 repayment mortgage will save £1,344 a year via the switch.
Will there be any windfall payments for members?
No
Will branches close?
No. The pair say in a statement: "No branches or agencies will be closed as a result of the merger and all S&S branch and agency staff will be retained."
Further reading/Key links
Top deals: Top Savings, Cheap Mortgage Finding
Full details: Merger announcement