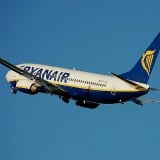 Ryanair has made a dramatic U-turn in the row over passenger welfare by saying it WILL comply with EU rules which mean it must provide food and accommodation to stranded travellers.
The budget airline says in a statement this morning: "Ryanair will comply with EU 261 regulations under which EU airlines are required to reimburse the reasonable receipted expenses of disrupted passengers."
Yesterday, its boss Michael O'Leary said the carrier would not be held liable for hotel and restaurant bills after state agencies across Europe shut down airspace for six days due to the volcanic cloud from Iceland (see the Volcanic cloud: your travel, employment and financial rights MSE News story for more).
O'Leary originally said Ryanair would reimburse travellers the original price of their air fare and no more.
Despite today's U-turn, the airline maintains the regulations are "unfair", adding it will fight them.
Budget airline policies
Low-cost airlines are notorious for skimping on customer service. Here are the other major budget carriers' policies on welfare for stranded passengers:
Easyjet. It says passengers will get meals and accommodation.


Flybe. It says passengers will get meals and accommodation.


Jet2.com. The airline's website states: "We appreciate some customers may have incurred additional expense. These expenses will not be reimbursed by Jet2.com." When quizzed whether this applied to food and accommodation, the airline's press office said it didn't know.


Monarch. It will cover "reasonable expenses" that insurers do not refund (though insurers are unlikely to refund hotel and food costs while stranded).


Thomson. It says it's putting up the "vast majority" of passengers in half-board or full-board accommodation. Anyone else will get "reasonable expenses", eg, 3-star accommodation or £20 per person, per day for food.

If you book your own accommodation or buy your own food, ensure you keep receipts otherwise you won't get cash back.
Airlines are also unlikely to refund five star hotel costs so stay somewhere less lavish.
EU rules
Article five of EU regulation 261 states: "In case of cancellation of a flight, the passengers concerned shall be offered assistance by the operating air carrier in accordance with Article 9(1)(a).
"In event of re-routing when the expected time of departure of the new flight is at least the day after the planned departure, (passengers are entitled to) the assistance specified in Article 9(1)(b)."
Article 9(1)(a) gives passengers the right to "meals and refreshments in a reasonable relation to the waiting time", while Article 9(1)(b) gives passengers rights to "hotel accommodation in cases where a stay of one or more nights becomes necessary".
There are no monetary limits to what costs an airline must reimburse but the Air Transport Users' Council suggests you "keep your expenditure to a minimum".
O'Leary adds: "The events of the last seven days highlight how discriminatory the regulations are towards Europe's airlines
"While competitor ferry, coach and train operators are obliged to reimburse passengers, this is limited to the ticket price.
"Yet the airlines are required to meet potentially unlimited expenses, in circumstances where there has been a catastrophic closure of European airspace.
"We will to work through the European Low Fares Airlines Association and other industry bodies to persuade the European Commission and the European Parliament to alter this regulation to put a reasonable limit on these reimbursement claims."
Further reading / Key links
Make them play fair: Consumer Rights, Section 75 Refunds
Travel for less: Cheap Flights, Budget Airline Fee-Fighting, Cheap Trains