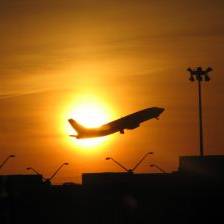 Budget airline Flybe has beefed up its 'Spend & Fly' credit card so new customers now qualify for two return flights rather than the previous one.
This can be to anywhere on the carrier's network which includes Spain, Portugal, Germany, France and Italy.
You must apply for the plastic by 30 June and make at least one transaction before 31 July (see the Credit Card Freebies guide).
Yet customers will have to pay taxes and charges on both legs, which can cost up to £100 per person on a European return journey.
How the offer works
As there's no minimum spend, just buying a chocolate bar will get you the flights.
Once you've spent on the card you'll receive a free flights claim slip to complete.
Send that back to the freepost address before 31 August and you'll be sent a voucher, within 28 days, for you and a friend to exchange for return flights together to any of Flybe's European routes.
Both people must use the voucher at the same time, on the same flights.
Vouchers are valid for 12 months from issue. If you're late sending the voucher back, you only get one return flight.
You must book your flight at least 14 days in advance.
Watch out for extra charges
In addition to the airline taxes and charges, like most budget carriers, Flybe usually passes on a payment processing fee to customers .
It also charges to check baggage into the hold (see the Budget Airline Fee-Fighting guide).
Alternative flight freebies
Earlier this month, Lloyds TSB upped the rewards for new customers on its Airmiles Duo card who apply by the end of June.
Instead of the usual one mile per £1 spent, you'll get miles during the first three months, but only on the first £1,500 spent.
So spend £250 a month for three months, accumulating 750 miles, and you'll get a free return flight to Paris, including taxes and charges (see the MSE News Story Lloyds TSB Airmiles card offers summer collection perks).
In addition, the British Airways Amex card pays one BA frequent flyer mile for each £1 you spend. Each mile is worth roughly 0.7% of what you spend, according to MSE research (see the Credit Card Rewards guide).
Also, spend over £20,000 in a year and you get one companion ticket when booking a flight.
However, you have to pay airline taxes and charges when booking a flight using the BA frequent flyer scheme (see the Cheap Flights guide).
Reward card warning
Ensure you pay the balance off in full on any cashback or reward to avoid paying interest as this will most likely dwarf any rewards earned (see the Minimum Repayments guide).
Further reading / Key links
Fly for less: Credit Card Freebies, Cheap Flights, Budget Airlines Fee-Fighting, FlightChecker
Credit cards: Credit Card Rewards, Minimum Repayments