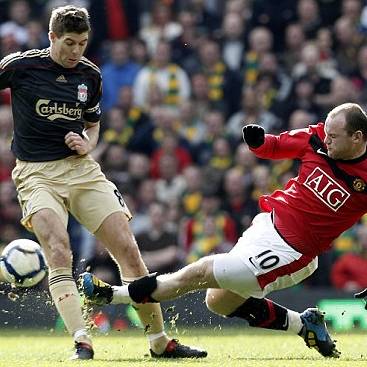 Sports fans don't just have the World Cup to look forward to, they will be toasting cheaper TV packages for the top events, in time for the next football season.
A ruling by the TV regulator Ofcom this spring means Sky must sell its premium sports channels (Sky Sports 1 and 2) to rival broadcasters for 23% less, and must make them more widely available.
The saving for broadcasters is likely to be passed onto customers, which could trigger a price war (read the Digital TV Cost Cutting guide).
BT Vision has already stated it will sell Sky Sports 1 and 2, plus ESPN, for under £20 a month before the new football season in August. This would undercut current prices by at least £14 per month in some cases.
Sky offers more sports channels if you sign-up directly, though Sky Sports 1 and 2, and ESPN, currently host all the Premier League and Champions League football matches via those broadcasters, featuring stars such as Steven Gerrard and Wayne Rooney (pictured, right).
Virgin and Top Up TV are more tight-lipped on future pricing.
Current costs
Via Sky, the sports pack (Sky Sports 1, 2, 3 and 4 plus Sky Sports News) costs £18 per month. To add ESPN, brings the cost to £27 per month.


Via Sky, to have Sky Sports 1 or 2 only, costs £9 per month.


Via Virgin, adding the Sky Sports package costs between £20.50 and £26 per month and an extra £8 per month for ESPN, depending on what other packages you have.


Via Virgin, to add Sky Sports 1 and 2 costs between £16.50 to £24 per month, depending what else you have.


On Talk Talk, if you take Sky Sports 1 or 2 it costs £23.50 per month for just one channel. If you get all four Sky Sports channels, it's £29 a month. If you add ESPN it's £36.99 a month in total.
BT and Top Up TV do not offer Sky's premium sports channels at present.
Can Sky cheat?
Sky only has to release Sky Sports 1 and 2 to rivals, so what if it decides to air premium sports events, such as the Premier League, on Sky Sports 3 or 4?
An Ofcom spokesman says: "There is a condition in the statement that if Sky moves the premium content to its other Sky Sports channels, there will be another review."
Sky appeal
Sky is appealing Ofcom's decision. However, BT says it will cut prices, as it will still have access to Sky's sports channels, this summer.
A spokesman explains that as the appeal result is still months away it is prepared to undercut rivals now, though this may be reviewed if Sky wins its challenge.
A Sky spokesman says: "We remain fully focused on our substantive appeal, which will be filed with the Competition Appeal Tribunal in due course."
Sky cancellation blow
Meanwhile, sports fans who want to cancel their Sky Sports subscription with Sky for the summer, and restart when the football season resumes, must now give 31 days' notice, as reported in our free, weekly e-mail (read the Sky Sports note).
The football World Cup, Wimbledon and The Open golf are on all on terrestrial TV this summer.
In previous years, subscribers were able to cancel there and then, and re-start again in August.
However, many forum users report when they try to cancel their Sky Sports package, they are offered it for half price over the summer, plus other incentives.
Virgin Media customers can downgrade immediately (although check there will be no changes to your phone or broadband price). BT also allows you to downgrade packages immediately.
Further reading/Key Links
Cut-price internet: Cheap Broadband
Cut TV costs: Cheap Digital TV