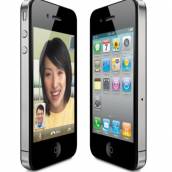 Apple boss Steve Jobs has promised iPhone 4 customers a free rubber case to cure signal problems or their money back.

At a press conference last night he admitted the company was "not perfect".
Customers have complained in their droves via internet campaigns that the handset loses signal if held the wrong way (see the Cheap iPhones guide).
So what can iPhone 4 users do to improve the signal and what are their rights?
What's the problem with the iPhone 4?
Users have complained the handset loses signal when they clutch it using the so-called "death grip" in the left hand.
To see exactly what type of grip affects the signal, see Apple's demonstration.
Apple also admits the software it uses fails to show the correct number of bars that indicate signal strength, which the technology giant initially claimed was the only problem.
The company says only 0.55% of customers have reported problems.
But earlier this week, an influential American consumer magazine said independent testing proved the phone's hardware was at fault. That heaped pressure on the company to admit a problem with the phone's antenna that affects the signal, which it did at the press conference last night.
How do I fix the iPhone 4?
Apple has taken two steps to help users by issuing a software update to cure the signal display problem and offering free cases to cure the antenna problem, though only time will tell if they are successful.
Software update. Apple has released the free 'iOS 4.0.1' update, that can also be used to update earlier iPhone versions, which you can get by connecting your phone to your iTunes account.

A page on Apple's website says: "It improves the formula to determine how many bars of signal strength to display on iPhone 4, iPhone 3GS, and iPhone 3G. The real signal strength remains the same, but the bars on the iPhone will indicate it more precisely."


Free case. Apple is giving away free rubber cases which it says will solve the antenna problem. To get one, you can apply via the Apple website from 22 July, though Apple admits it won't be able to make enough for all its three million users.
What happens if the iPhone 4 is still faulty?
Jobs has promised all iPhone 4 users a full refund until 30 September if still unhappy with the phone's performance.
The exact details of this concession are still sketchy as the announcement was only made last night and it is unclear how you would get the refund if you signed up for a contract via one of the mobile networks.
What are your rights?
Under UK law, goods should be of satisfactory quality and if a fault occurs the product is deemed not of satisfactory quality and a consumer, by right, can claim a refund.
If you make a claim within six months of purchase it is up to the seller to prove there was no fault. Yet in this case, Apple has admitted there is a problem. So it's likely that, by law, you'll have a right to a refund even beyond Apple's 30 September deadline.
Lobby group Consumer Direct stresses that if you are entitled to a refund, replacement, repair or compensation, it is the firm that sold you the phone that must sort out your problem, not the manufacturer (see Consumer Direct's web page on mobile phone rights).
UK operator policies
Even if your phone is not faulty, some mobile operators have standard returns policies you could utilise if you recently bought an iPhone 4 (or any mobile) from a store, online or by phone (see table below).
In some cases, you'll be entitled to a refund for the phone and your contract cancelled. In others, you'll only be able to swap your handset for an alternative.
Mobile cancellation rights (non-faulty phones)

Cancellation limit after purchase
Return reasons allowed
3
Any time
Signal problems only
O2
14 days
Any
Orange
No return allowed
n/a
Tesco
14 days
Any
T-Mobile
7 days
Signal problems only
Vodafone
7 days
Signal problems only
Carphone Warehouse
14 days (phone or web purchase only)
Any
Source: Communications Consumer Panel and Carphone Warehouse.
The policies operated by UK networks are voluntary if bought from a store or when you signed up to a contract online or by phone that began immediately.
But if you bought a handset only via the internet or by phone, you have a legal right to return it and get a full refund within seven working days, for any reason.
If you sign up to a contract by phone or internet that begins within seven working days, your legal cancellation rights end when the service starts, unless it is faulty.
Additional reporting by the Press Association.
Further reading/Key links
Slash mobile costs: Cheap Mobiles
Sell old mobiles: Sell Old Mobiles
iPhone guide: Cheap iPhones