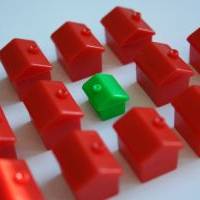 Mortgages where you declare your income without proof are to be banned next year, under proposals from the City regulator.
These loans, known as self-certification mortgages, have traditionally been the only way some of the self employed could get home finance, especially those who have recently begun trading (see The Remortgage Guide and First-time Mortgage Guide).
Not only could this prevent people getting on the housing ladder, it could create a band of 'mortgage prisoners' as those currently on a deal may be unable to remortgage or move property.
The Financial Services Authority (FSA) says every applicant must, in future, be able to prove their income.
While the FSA's plans would consign self-cert to the scrap heap, these deals are virtually extinct anyway as the last such mortgage was pulled last autumn.
So what does this mean for the self employed? We answer your concerns below.
I am self employed. Can I get a mortgage?
Yes. But even though the new FSA rules are not yet in force, most lenders, especially those lending to the self employed, will want to see proof of income now.
If you can verify your earnings, you'll have as much chance as anyone else when applying for a mortgage.
Remember, even if you are permanetly employed with tax deducted by your employer, if you have additional income, this may be classed as self employed income.
If so, it is likely to be treated in the same way as income from someone who is 100% self employed.
How do I prove my self employed income?
You normally have to show at least two years' tax statements or company accounts signed off by a qualified accountant (you'll be assessed on profits). Some lenders demand three years' worth.
Yet it's not always that simple. Lenders may want proof you'll earn similar sums in the years ahead by asking about your business and what contracts or clients you have lined up.
I think I can get a mortgage. How do I boost my chances?
Like with any mortgage application, ensure you have all the key paperwork in place (see the The Remortgage Guide and First-time Mortgage Guide).
Brokers say that as many accountants use perfectly legal loopholes to reduce your tax burden by reducing your stated profits, this may work against you if the benefit of paying less tax is outweighed by not qualifying for a mortgage, due to lower income.
Andrew Montlake, from broker Coreco, says: "Speak to your accountant if you are in this position, as it is a debate you will need to have, as you may have to show higher profits."
What if I don't have at least two years' accounts?
There are still three potential avenues, according to brokers, detailed below:
The wealthy may qualify. For those who want larger loans, typically above £500,000, some lenders have look beyond two years' accounts, says Ray Boulger, from mortgage broker John Charcol.

Often, such loan applications are assessed by a professional underwriter who will take into account other assets. Therefore, if you have a large sum of savings or investments, you may still get a loan even if you do not have the necessary paperwork.


If you're a contract worker. If you move from contract-to-contract (such as in the IT or television industry) and you have a good history of consistently getting work, lenders may still consider you, says Boulger.


Speak to your existing lender to remortgage. Melanie Bien, of mortgage broker Private Finance, says some lenders may offer special deals to their customers who want to remortgage.

"It's worth asking as some may be more flexible," she says.
What if I don't meet any of the criteria mentioned?
If you cannot prove your income based on the criteria lenders currently require, it's very unlikely you'll get a mortgage at present, brokers say.
If you're unable to get finance, not only will you be unable to get on the property ladder, your options if you already have a mortgage will be severely restricted.
It's unlikely you'll be able to switch lender at the end of your deal unless things change before then. You may also be unable to move home, or borrow more, as most lenders require checks on your income first.
This could be a big blow to the recently self employed – a group that has grown over the past few years due to rising unemployment – or those who have changed their role or their company's structure, meaning their recent employment history does not correlate with their likely future.
I can't get a mortgage. What do I do next?
If you are a first time buyer, if you want to borrow more money on an existing mortgage or you have a mortgage and want to move home, you'll have to wait until you have the necessary proof of income or until the market evolves to cater for your circumstances.
If you already have a mortgage, then you'll most likely revert to your lender's standard variable rate (SVR) when your present deal expires.
Fortunately, with Bank of England base rate at a 0.5% historic low, SVRs are far cheaper than they used to be, with some as low as 2.5%. You'll need to remain on that rate, in most cases, until you have the necessary paperwork.
What is the mortgage industry doing about this?
The Council of Mortgage Lenders has stated lenders will try to develop new methods to help borrowers verify their income.
For instance, a spokesman for lender Platform, part of the Co-op, says: "We still believe there is a need for a product for this group of people.
"Now we have clear guidance, we are considering developing a product that meets the FSA's guidelines."
Brokers have suggested this could involve greater scrutiny of bank statements based on recent income.
Further reading/Key links
Get help: Mortgage Arrears, Redundancy help
Mortgage cost-cutting guides: The Remortgage Guide, First-time Mortgage Guide, Cheap Mortgage Finding, Ditch My Fix?