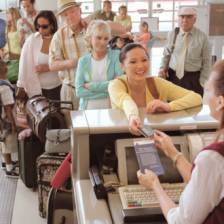 Holidaymakers could save up to a whopping 65% on last-minute deals as tour operators struggle to shift their summer packages following a turbulent year.
The Association of British Travel Agents says it expects more last-minute summer holiday booking this year than ever – with 650,000 still reportedly set to book – because numerous factors have led to passengers delaying their plans (see the Cheap package holidays guide).
These include the weak pound, volcanic ash, emergency Budget, general election and football World Cup.
As a result, travel firms have thousands of unsold holidays they need to shift, which could lead to hundreds of pounds of savings for holidaymakers.
It's usually best to plump for a package if you're going for seven, 10 or 14 nights to a traditional package holiday destination, such as the Balearic or Greek islands.
Otherwise, it's usually best to book flights and accommodation separately (see the Cheap Flights and Cheap Hotels guides).
The table below shows some of the massive package discounts we found:
Last-minute package discounts

(i)

Destination
Current price
Discount
Luton - Majorca (14 nights)
£269
50%
Manchester - Tenerife (14 nights)
£349
50%
Humberside - Heraklion (7 nights)
£258.50
65%
Manchester - Santorini (7 nights)
£340
34%

(i) Prices per person, based on two sharing, self-catering, travel in August.
Haggle them down
You could still save even more by following a few MoneySaving tips (see the Cheap package holidays guide).
Once you've found a package holiday, note down flight times, hotel details and whatever else is included.
Then go online to find a list of tour operators that sell holidays to the same destination. Then ring them to haggle.
Using this technique, MSE today blagged an extra £200 off a seven night August holiday to Crete.
Fall in profits
TUI travel, the group that owns travel firm Thomson, saw revenue drop by 4% in the last three months, with end of year profits expected to be lower than predicted.
TUI chief executive Peter Long says: "The strong booking trends experienced up until the volcanic ash disruption in mid-April and the subsequent rebound in early May were not sustained throughout the early summer period.
"Consequently, late sales for Summer 2010 have increased."
The other travel giant Thomas Cook would not comment on its financial performance or prices.
Further reading / Key links
Travel for less: Cheap Flights, Cheap Package Holidays, Budget Airline Fee-Fighting, Cheap Trains, Cheap Travel Insurance