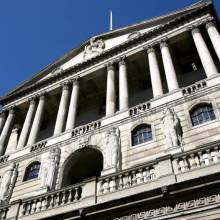 Bank of England governor Mervyn King warned of "a choppy recovery" for the UK economy today as he braced households for slower growth and stickier than expected inflation.
The Bank's latest forecasts show slower growth than previously thought next year as Chancellor George Osborne's emergency Budget kicks in, while inflation will stay above the 2% target until the end of 2011 due to next January's VAT hike (see the Recession-proof Your Finances guide).
Households will also be squeezed by tighter credit conditions as banks repair their balance sheets, the report adds.
The latest gloom comes after recent surveys showed a sharp slowdown in high street sales, falling house prices and consumer confidence at its lowest for more than a year.
King says the impact of the financial crisis would fade only gradually, with the problems in the banking sector "likely to mean a choppy recovery".
Sterling and FTSE down
The news instantly hit UK markets. The FTSE 100, the index of the leading shares, had fallen by 1.8% by 11.30am today, from 5,376 when the markets opened to 5,278.
The pound also tumbled against the dollar and euro. It fell by 1% to $1.568, its weakest since 30 July (see the Stretch your pound abroad MSE News story).
Against the euro, £1 would have bought €1.21 before the report but €1.20 at 11.30am.
The Bank adds that household disposable incomes would be squeezed as a result of the deficit-tackling measures, with some companies likely to face lower public sector demand.
Households have also become more pessimistic in recent months amid persistent fears over unemployment and subdued wage growth, the report adds.
The Bank's monetary policy committee has already slashed interest rates to a record low of 0.5% and pumped £200 billion into the money supply, but its latest inflation forecasts signal that further action could be on the way.
The projections show consumer prices index (CPI) inflation falling more slowly because of the VAT rise, although CPI still undershoots the Bank's 2% target in two years even without any withdrawal of emergency support measures.
Additional reporting by the Press Association.
Further reading/Key links
Protect yourself: Recession-proof Your Finances
Boost your rate: Top Savings
Cut-price home loans: Cheap Mortgage Finding