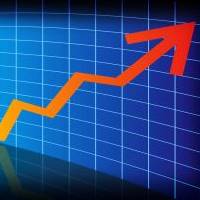 Inflation remained unchanged in May but that still means the cost of living is rising at a rate of knots.
The Retail Prices Index (RPI) measure stood at 5.2 per cent, while the less representative Consumer Prices Index (CPI), which does not include housing costs, remained at 4.5%, well above the Government's 2% target and still at a two-and-a-half-year high.
It is the 18th month in a row that inflation has been above the Bank of England's target of 2%, continuing the pain for cash-strapped consumers.
The soaring costs are due to rising food, drink and fuel prices which all added to the squeeze on household spending.
Food prices rose 1.3% between April and May, while alcohol and tobacco prices increased 0.7% over the month, driven higher by hikes in duty and VAT.
Key Points
RPI at 5.2%
CPI at 4.5%
CPI at two-and-a-half-year high
The price motorists paid at the pumps rose to a record high of £1.36 per litre for petrol and £1.42 for diesel.
Life will get tougher for households later this year when energy price hikes come into effect. Scottish Power revealed last week it is increasing gas and electricity prices by up to 19%, with the other major power firms set to follow.
However, these inflationary pressures were largely offset by a decline in transport costs, which had been higher the previous month as airfares shot up amid the flurry of bank holidays caused by Easter and the royal wedding.
Today's announcement will keep pressure on the Bank of England to raise interest rates from their record low of 0.5% in a bid to beat down inflation.
Pressure on savers
The news also adds to trouble for savers. Soaring inflation means we all have to pay more for goods and services but it also means savers will see the value of their cash eroded.
Imagine you've £1,000 in the top 3.05% easy access savings account. After basic rate tax you'd have £1,024 in a year – as you've earned £24 interest.
Now suppose that £1,000 is enough for ten weekly supermarket shops. If prices rise by 5.2% next year, you'd need £1,052 to buy the same goods.
So although your savings might have grown, the impact of inflation means what you can buy with the money has fallen, meaning your cash loses value.