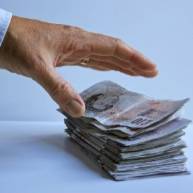 Lloyds TSB customers due a payment for mis-sold payment protection insurance (PPI) have vented their fury at huge compensation delays, though they may be entitled to extra cash as a result.
Many angry borrowers have taken to our forum to complain and demand action. In some cases, where Lloyds promised a payout in July, they say it's still not arrived.(Update, 28 October. Since publication, RBS/Natwest and Barclaycard have also admitted delays).
Key Points
Some face 2-month+ wait for cash
Double 28-day gentleman's agreement
Victims to be offered additional compensation
One couple from Ipswich who contacted MoneySavingExpert.com say they are still awaiting £13,000 promised in early September.
To make matters worse, they say Lloyds took premiums for PPI – to cover loan and credit card payment for those who cannot work – this month despite telling them the insurance would be cancelled.
Lloyds Banking Group has set aside £3.2 billion to pay claims, far more than any other provider, as part of an estimated £9 billion likely to be owed by all PPI sellers after banks were defeated in a legal bid to block payouts earlier this year.
How long is compensation taking?
The government-backed giant admits those due money back for mis-sold cover on a Lloyds TSB loan may not get their cash for approximately 56 days after an offer – double the intended wait – due to the huge backlog of claims it is sifting through.
However, as some of our forum users state, delays can be longer than 56 days.
Lloyds Banking Group, the parent company of Lloyds TSB, insists PPI redress on its other products, which include those from Halifax and Bank of Scotland, should fall within 28 days, the period set by providers as part of a 'gentleman's agreement'.
City watchdog, the Financial Services Authority, says payments must be "prompt" following an offer, but does not set a rigid time-frame.
Additional compensation promised
The Financial Ombudsman Service, which arbitrates in disputes between banks and their customers, says providers must pay any interest due on compensation up to the point of payment.
Lloyds confirms it will make those interest payments and offer additional redress "on a case-by-case basis".
So those whose payments take over 28 days after an offer should make an extra claim.
Anger at delays
Consumers who have told their tale of frustration on our forum over the past week include forum user, kerrirobberts, who fumes: "Letter dated 5th August with calculations (arrived mid-Sept).
"Called 5 September to change payment method to stop any 'cheque is in the post' shenanigans. Still waiting..."
Another, dustybin71, says: "Called 17 July to see what was happening, told complaint had been upheld, and was due a refund and to allow 21 working days which would have taken it to 15 August. STILL WAITING!!!!!!!!!!"
Martin Lewis, MoneySavingExpert.com creator, says: "Banks claim they want to rebuild trust – it's about time they started being trustworthy.
"This delay adds insult to the injury caused by mis-selling these products, and in some cases lying to their customers.

"In these crunch times, people need money back to help make ends meet. Dangling the carrot of cash and not delivering is cruel.
"At least Lloyds has owned up – compensation for delay should be standard for the industry and a meaningful amount."
Banks defeated
Lloyds Banking Group said sorry in July for mis-selling numerous policies, and was also the first of the major banks that took part in a legal bid to block large-scale compensation moves to pull out of the case, while an appeal was mulled, after the British Bankers' Association trade body lost its case in the High Court.
Sellers must now review past PPI sales and offer redress where appropriate even where customers have not complained.
As providers are unlikely to contact everyone mis-sold, it is vital you get your claim in if due cash.
A Lloyds TSB spokeswoman says: "We are processing all PPI compensation payments within a reasonable turnaround time however we have encountered an issue which has delayed payments for a group of customers with a Lloyds TSB loan.
"We are looking to resolve this as a priority and have a dedicated resource working on this to clear the backlog.
"In recognition of the delay some customers have experienced we will look to compensate them accordingly, this will be reviewed on a case by case basis. We apologise to any customer affected for the inconvenience caused."
She adds that the bank has quadrupled the number of staff working on clearing this backlog.