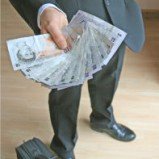 More banks have admitted they are failing to hit the 28-day deadline between agreeing a payment protection insurance (PPI) compensation figure and paying it.
The Royal Bank of Scotland (RBS) group says many customers are waiting six weeks, putting it two weeks behind.
Key Points
Customers should only wait 4 weeks between offer and payment
RBS, Natwest, Barclaycard & Firstplus 2 weeks behind
Victims could get additional redress
This affects RBS and Natwest customers.
Barclaycard and Firstplus, both part of Barclays, also say they are running two weeks behind schedule in many cases.
The news comes after Lloyds TSB yesterday admitted many of its customers who were mis-sold PPI – to cover loan or credit card payments if you cannot work – face huge delays.
It says some are waiting two months, though forum reports state the wait sometimes exceeds three months, and counting.
Some MBNA customers have also complained of delays, though the company says it is hitting the 28-day deadline for the "vast majority" of claims.
Your rights
City watchdog, the Financial Services Authority, does not stipulate how long PPI sellers have between agreeing compensation and paying it, only saying it needs to be "prompt".
However, a gentleman's agreement between providers states payment must be delivered within 28 days.
Banks and building societies must calculate interest on compensation payments up to payment date. Lloyds, Barclaycard and Firstplus say they will pay additional redress on top of interest "on a case-by-case basis". RBS will only pay the additional interest.
One forum user, nicanacanoo, who said on Tuesday her boyfriend had already waited eight weeks for a payment from RBS, wrote today: "My boyfriend received a call on Tuesday to say his cheque had been sent out next day delivery.
"Went to collect it from the Post Office today and the bank will not accept it as the cheque isn't even signed!!!!!
"RBS are really playing serious games!!! What a complete joke!"
Barclays (excluding Barclaycard and First Plus), Bank of Scotland, First Direct, Halifax, HSBC and Santander say they are meeting the deadline.
Banks defeated
After the British Bankers' Association trade body lost its case to block mass payouts in the High Court in July, sellers must now review past PPI sales and offer redress where appropriate even where customers have not complained.
As providers are unlikely to contact everyone who was mis-sold, it is vital you get your claim in, if you are due cash.
A Barclays spokeswoman says: "Barclaycard/ Firstplus have experienced operational problems which have meant some payments to customers who made PPI complaints have taken longer than we would have liked.
"We're working hard to resolve the situation and have increased the number of people arranging payments. This hasn't been our finest hour and we apologise."
An RBS spokeswoman says: "We would normally expect to make payment within 28 days. However, due to a high volume being received recently we have experienced some delays.
"We have written to impacted customers to apologise and assure them that we will pay them interest up to point of payment."