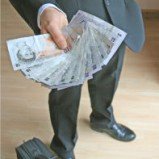 Redress paid to victims of payment protection insurance mis-selling has hit £1 billion in 2011, new figures show.
City regulator, the Financial Services Authority, has today revealed £268m was paid out in October, the highest month on record, to take the total figure for the year to just over a billion.
As the data is almost two months behind, assuming the current pace continues, it is likely the year-end total will be well over £1.5 billion.
It is estimated the total bill for all victims' redress could hit £9 billion.
There has been a huge jump in compensation since the British Bankers' Association trade body ended its legal battle in early May to block FSA rules on compensation.
These rules force banks to review past sales of PPI – to cover loan or credit card payments when people cannot work – and contact those mis-sold to offer money back, even to borrowers who have never complained.
The FSA data comes from 16 firms, that account for 92% of PPI complaints made in the first half of 2011.