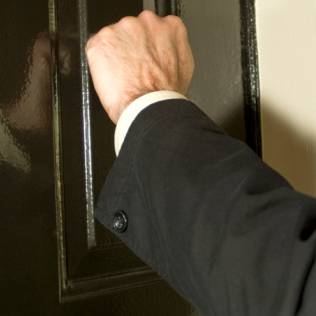 Scottish and Southern Energy (SSE) customers who were talked into switching to a pricey tariff by cunning door-to-door salesman could receive a share of a £5 million compensation pot in the new year.
Under the 'Sales Guarantee' scheme, anyone who signed up to SSE between October 2009 and July 2011 via doorstep salesmen will receive a letter informing them they may be eligible for a refund if their case resulted in any financial loss.
However, those mis-sold before this period can also claim via the Energy Ombudsman if their provider fails to pay up.
Under the SSE guarantee, customers need to show they were given misleading information which was likely to have led to them choosing an expensive tariff.
The company has form in this respect. SSE was found guilty of doorstep mis-selling at Guildford Crown Court in May but it is appealing the decision.
The court ruled a doorstep sales script falsely claimed consumers were paying too much and could save by switching to SSE when the salesmen had no idea if that was true.
Energy regulator Ofgem is currently investigating whether SSE was involved in doorstep mis-selling.
The company stopped doorstep sales in July 2011.
Who is affected?
Around 400,000 customers who switched to SSE after being persuaded to do so on their doorsteps will be written to but it is unclear how many will get cash back as not all will have been mis-sold.
SSE also operates under the Scottish Hydro, Southern Electric, SWALEC and Atlantic brands so those customers could also be eligible.
How to claim compensation
SSE will write to customers in January who switched to the firm between October 2009 and July 2011 via a doorstep salesman, even if the user has since changed energy provider.
A dedicated telephone line (0845 0707 388) is already open for claimants, though nothing will be investigated until January. You can only hand over basic details now.
Based on the information you supply, if it's proved you suffered financial loss or you received inaccurate information in the process, SSE will compensate you.
What will the compensation be?
SSE does not clarify how much mis-selling victims will get back, saying it will be decided on a "case-by-case" basis.
Existing customers will get a credit to their account. Others will get a cheque.
When will you receive compensation?
SSE cannot give any time guarantees.
What if you're unhappy with the amount?

If you're not happy with the compensation amount or SSE's decision on whether or not to award redress, you can complain to the free, independent Energy Ombudsman.
What if you were sold pre-October 2009?
The Ombudsman can look at cases going back six years so you can complain if the energy firm refuses a refund.
Archna Luthra, MoneySavingExpert.com consumer products analyst, says: "Of course, this a welcome move by SSE. But details on how much compensation consumers will get is sketchy, so let's hope SSE sticks to its promise.
"While it's targeting sales between 2009 and 2011, it's important to remember the Energy Ombudsman may look at cases going back further and if you're not happy with the amount SSE gives you, you can take your complaint to the Ombudsman."
Alistair Phillips-Davies, from SSE, says: "We believe most of our energy sales have been conducted in a fair and professional manner.
"At the same time, if customers have actually suffered a loss, we will acknowledge that and make good that loss."