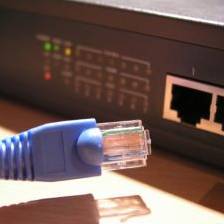 Broadband speeds have risen across the UK, but one in five postcodes still suffer from super-slow service, new figures from comparison site uSwitch.com show.
Average UK broadband speeds increased by 16% during January to June this year compared to the same period last year, according to the data.
In that period, the average UK broadband speed was 7.84 Mbps, compared to 6.74 Mbps for the first half of 2011.
Despite overall speeds being more than 1 Mbps higher than a year ago, three in ten (29%) postcodes still have broadband download speeds below 3 Mbps, while one in five (21%) of UK postcodes still suffer from average broadband speeds of less than 2 Mbps.
In a list of the top 50 most populated towns and cities in the UK, ranked in order of fastest average download speeds, the south east of England dominates the top of the table, with London taking the top spot with an average speed of 13.262 Mbps over the first six months of this year.
The slowest average speed in the first half of this year was 5.336 Mbps in Norwich, followed by 5.786 Mbps in Aberdeen and 6.402 Mbps in York.
Check your speed
To find out your broadband speed, do a free speed test.
There are many tricks out there to give your broadband a free speed boost, see our Boost your Broadband guide for the full details.
Don't rush into paying for super-fast broadband unless you regularly stream TV or download large files. If you don't do these things, you may find a slower speed still suits your needs.
Customers can leave their provider without penalty within the first three months of their contract, if their maximum line speed is significantly lower than the bottom of their internet service provider's estimated range, and it is unable to resolve the problem.
Regulator Ofcom told providers in May to be more upfront about broadband speeds, after an investigation found many fail to follow its code of practice and many consumers fail to get anywhere near the advertised speed.