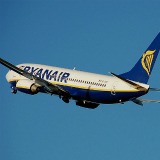 Ryanair and BMI Baby will ask hundreds of thousands of passengers booked to fly from Spanish airports for more cash if they want to travel, even if they've already paid for their trip.
The airlines say this it to cover a rise in airport departure tax. But rivals British Airways, Easyjet, Flybe, Jet2, Monarch and Thomson will not charge passengers who've already booked extra, as they've chosen to absorb the cost, which airlines ultimately have to pay.
Ryanair's additional charge applies to all travellers who booked a flight departing from Spain on 1 July or earlier, for travel from 1 July. It doesn't apply on flights from the UK to Spain, as here, you pay UK airport tax.
The extra charge could add up to £30 to the cost a family of four will pay for their summer holiday.
BMI Baby, which is likely to be closed by new owner IAG (which also owns British Airways) in September, will apply a charge to anyone who booked before 4 July for travel from 1 July.
Ryanair announced in April customers already booked on flights leaving Spain this summer could be forced to pay extra to travel if the Spanish parliament ratified the tax hike. It was passed into law on 30 June.
How much will I pay?
The extra tax you'll pay depends on the airport you're flying from, as well as whether you're flying to an EU or non-EU country.
Some examples of what Ryanair will charge, per person are:
Madrid to an EU airport: €9.12 (£7.30)
Barcelona to an EU airport: €8.95
Malaga to an EU airport: €1.92
Palma to an EU airport (excluding mainland Spain): €1.92
Ibiza to an EU airport (excluding mainland Spain): €1.87
See the Ryanair website for a full list of charges
BMI Baby says its extra charge is £7 per person from Barcelona and £1.50 per person from all other destinations.
When will I be asked for the money?
Ryanair is still deciding how and when customers will be charged this additional tax. Its press office won't tell us how passengers who flew over the past few days have paid, though the money is likely to have been demanded at check-in.
It has emailed affected passengers to let them know they'll have to cough up more.
Passengers not wishing to accept the additional tax can cancel their flights for a full refund.
A Ryanair spokesman says: "In accordance with our terms and conditions of travel, Ryanair will be charging passengers for these increased taxes who fly from Spanish airports from 1 July."
BMI Baby has yet to confirm how it will ask for the money. It is currently contacting customers about the charge, and will update its website when payment details are available.
It says in a statement: "Unfortunately this situation is beyond our control and we apologise for any inconvenience caused."
For bookings made on or after 2 July with Ryanair, or from 4 July with BMI Baby, the increased departure tax will already be factored into the price.