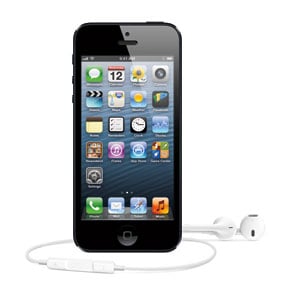 All the UK's major mobile phone providers have now released prices for Apple's iPhone 5, which goes on sale from next Friday.
For full info on how to find the cheapest iPhones, see the main website's Cheap iPhones guide.
Orange, O2, Three, T-Mobile and Vodafone have all released their pay monthly prices for iPhone 5 contracts – all of which can now be ordered.
However, with all of the providers, bar Vodafone which is offering 12 month contracts, you'll have to sign up for a lengthy 24 months if you want to get your hands on the latest gadget.
As with past incarnations of the iPhone, the iPhone 5 is available with 16GB, 32GB, or 64GB of memory. But the more you want, the more you'll pay.
Is it worth it?
Before you rush to pre-order the mobile, bear in mind iPhones are pricey and you can get a mobile contract for much less by choosing a different handset.
The older 4S and 4 models are similar to the 5, yet cheaper in price. It's also possible the launch of the iPhone 5 may also drive down the costs of the older models.
Pay-as-you-go prices are also yet to be announced by the networks, though you will be able to buy an unlocked iPhone 5 from Apple for £529 for the 16GB version, £599 for 32GB or £699 for 64GB from Friday.
Becca Talbot, MoneySavingExpert.com consumer products analyst, says: "iPhones are not MoneySaving by anyone's admission, but if you really must have one, ask yourself whether you really need the latest model.
"The iPhone 4 and 4S aren't that dissimilar to the iPhone 5, so you could save money by getting one of the older models at a discounted price.
"Consider other makes of phone and their tariffs too. iPhone tariffs are notoriously more expensive than non-iPhone tariffs, so getting the same tariff on a Samsung or HTC phone could be a lot cheaper."
New deals
If you have to get the new model it is possible to get a free handset, as long as you want the 16GB model, and only if you sign up to a long and expensive package.
Here are the cheapest plans where a 16GB iPhone 5 is free:
Free iPhone 5 16GB
| | Orange | O2 |
| --- | --- | --- |
| Monthly cost | £46 | £46 |
| Monthly minutes | Unlimited | Unlimited |
| Monthly texts | Unlimited | Unlimited |
| Monthly data | 3GB | 1GB |
| Contract length | Two years | Two years |
Low monthly costs
If you're more worried about keeping monthly costs down, which means choosing a low use plan with high handset cost, these are the cheapest monthly tariffs with the cheapest handset cost provided by each network.
Low monthly cost iPhone 5 16GB
Orange
O2
Three
T-Mobile
Vodafone
Monthly cost
£36
£26
£34
£36
£33
Phone cost
£110
£250
£79
£109
£149
Monthly minutes
Unlimited
Unlimited
500
2000 (i)
600
Monthly texts
Unlimited
Unlimited
5000
Unlimited
Unlimited
Monthly data
1 GB
1GB
Unlimited
Unlimited
500 MB
Contract length
Two years
Two years
Two years
Two years
Two years
(i) Plus unlimited T-Mobile calls. Prices rounded to nearest £1.
If you're desperate to use the new phone's 4G capabilities as soon as it's available - offering faster data speeds - then you'll need to choose Orange or T-Mobile, and switch to new sister brand EE when its network launches.
Getting the best price
Before you order the new model you should also check cashback sites such as TopCashBack and Quidco to see if they're offering any deals on top. But don't choose your package based on a cashback offer. Cashback should be seen as an additional bonus as tracking problems can occur meaning you're never guaranteed the cash.
Existing customers upgrading may also be able to negotiate better deals by haggling with their provider.
It's worth noting that Tesco Mobile, which often has some of the best iPhone deals, is also yet to announce its prices.