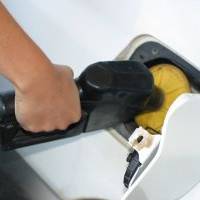 Asda, Morrisons, Sainsbury's and Tesco have all cut up to 3p/litre off diesel and unleaded prices from today.
Asda says this means motorists will pay no more than 135.7p per litre for unleaded and 139.7p per litre for diesel, regardless of where they live.
Morrisons, Sainsbury's and Tesco prices vary locally.
Despite price cuts, this doesn't necessarily mean these will be the cheapest prices. Use the website Petrolprices.com to find the lowest price in your local area.
According to the site the average price for unleaded was 139.89 per litre on Sunday, while the average price for diesel was 144.45p per litre.
The supermarkets' move follows a fall in the price of oil over the past 10 days.
Earlier this year, the Office of Fair Trading launched a review into whether reductions in the price of crude oil are being passed on to motorists.
One of the topics up for review is whether supermarkets and major oil companies are making it more difficult for independent retailers to compete.
Additional reporting by the Press Association.