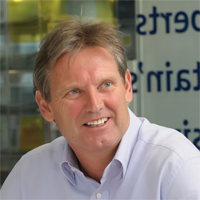 A raft of energy price rises will hit millions of households in time for the bitter winter, with EDF the latest to announce a rise today. Firms have faced heavy criticism for the hikes amid bumper profits. Here, Phil Bentley (right), managing director of the UK's largest power firm, British Gas, which is raising prices next month, offers the case for the defence (and offers to answer your questions)...
You'll have read a lot about energy in the past few weeks. And an article by me might not be the first thing you want to read today. But I hope you will take a few minutes to see what I have to say.
We said two weeks ago we'd put up prices in November by 6% on average. This means an extra £1.50 a week — a big deal for already-stretched households.
I was asked if I "got it". Do I understand what this means to customers? I do get it. I know times are tough and the rise is thoroughly unwelcome.
So why did I make the decision? I know MSE readers like to dig into the details behind any argument.
Here is one key fact: British Gas doesn't control 85% of the bill. We have no control over the cost of energy, the costs of transporting energy, of an upgrade to the national grid, or the costs of various Government policies.
And those costs have all risen. The price of energy alone has gone up 13% in the last year.
Rising costs
Have a look at the two lightbulbs below, and you'll see the changes to your bill between 2007 and 2011. Working from left to right, the first three sections are the parts of your bill we don't control. You will see they've all grown significantly.
The last two boxes are the bits we do control. You will see they haven't grown at all. In fact, they've gone down.


We can't make a loss
I often get asked why British Gas can't make less profit and absorb rising costs. It's a good question.
But again, look at the maths. We make, on average, £50 profit per customer per year. But this increase — entirely down to costs we don't control — means an extra £80 a year. So if we didn't pass on this rising costs, we would make a loss.
That isn't the right way to run a business. In fact, the one thing we do control is own our costs (operating costs and profits), and these have fallen despite general inflation.
If we made a loss we wouldn't be able to keep investing in Britain's energy future — vital investment that secures electricity and gas supplies for the future to keep the lights on and keep our homes warm. I can't allow us to sell energy at a loss and put those investments at risk. That's why I made the decision to put up prices.
Get energy efficient
Prices are rising, but bills don't have to. That's a controversial statement, but it's true.
We need an energy efficiency culture in this country. In Europe, energy prices are much higher than in Britain. But their bills are lower than ours.
Why? Because they have better energy efficiency in their homes. £1 in every £4 spent on energy in Britain disappears out of poorly-insulated windows, doors and roofs.
But we will come and insulate your home for free. You don't even have to be a British Gas customer.
There is other energy efficiency help available. British Gas for instance has the widest eligibility criteria of any energy company for the Warm Home Discount — a £130 credit on your electricity bill.
Simpler tariffs
You may have seen Ofgem announced new rules for the energy industry last week. These include writing to every customer to tell them if we have a cheaper tariff, and an end to complicated 'multi-tier' tariffs.
I'm pleased to say British Gas is already committed to those changes. In fact, we already alert our customers to cheaper tariffs that are available.
If you're a British Gas customer, have a look at your latest bill — you'll see it there. I am absolutely committed to making sure that the cheapest tariff is available to whoever wants it.
Keep one thing in mind. If you pay by direct debit, or if you manage your account online, British Gas saves money. Instead of keeping the money we save, we give it back to you in the form of a discount. This seems fair — people would be rightly cross if we kept that money. [MSE insert: energy from all firms is cheaper this way].
But those options might not be right for everyone. Some don't want to use online services or pay bills monthly. So the cheapest tariff won't always be right for everyone.
Get in touch with me
On a final note, as winter approaches, I know that there are people who worry about their energy bills. The weather has already turned colder so, if that's you, then please get in touch straight away.
You can call us on 0800 980 1917. We can help. And my email address is phil.bentley@britishgas.co.uk. This comes to me personally and I will make sure you get a response.