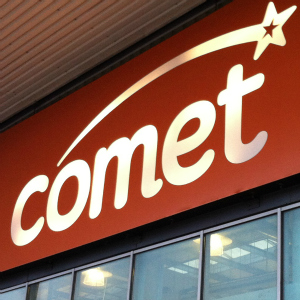 Thousands of Comet customers have been left worried where they stand after the store went into administration, but many consumers have a legal right to get their money back if they've lost out.
The stricken electrical retailer went into administration earlier this month and its stores are currently trading as part of a liquidation sale. Its administrator Deloitte has not decided how long stores will remain open for.
In the interim, here's what you can do to safeguard your wallet.
I've got faulty goods, what can I do?
This can get complicated, so we've set it out as follows:
Your rights. Buy faulty goods, and by law, your rights are with the shop you bought them from, not the manufacturer. It's the retailer which should provide the 'remedy', whether that be a refund, repair or replacement.

However, accountancy firm KPMG says that while a firm is in administration, if the item you purchased is faulty, your claim for a refund would just be another claim as a creditor to the store – you'd be one of a long list of people owed cash by the company.

What's Comet doing? Deloitte says, regardless of when you bought the item, it will try to repair Comet-branded products.

If you bought goods in Comet which were made by another firm, it will not offer this service. Instead, it says you should use the manufacturer's warranty or an extended warranty.

What should I do? If Comet or the manufacturer isn't able to repair an item, rather than becoming a creditor, where you're unlikely to get much back, check if you bought it on a credit card. If so, provided it cost over £100, under Section 75 of the Consumer Credit Act the credit card company is jointly liable for any problems, so it should offer a refund.

If the item is for less than £100 or you bought it on a debit card, try the Visa or Mastercard chargeback schemes. These aren't legal requirements, but are a promise by the card operators that if you complain within 120 days that the service hasn't been fulfilled, it should give you your money back.
I've got an unwanted item, can I return it?
No. Unless there is a problem with the item, you have no legal right of return.
Many shops choose to allow refunds for unwanted goods, but they don't have to.
In this case, Comet isn't offering refunds for goods bought before or after the company went into administration.
I ordered something that hasn't arrived, will it come?
Comet's administrator Deloitte says it will fulfil any orders where the item is in stock. But if the product is unavailable, it will NOT offer a refund.
If what you've bought cost over £100 and you paid by credit card, the card company is jointly liable with the retailer. So you can make a claim under Section 75 of the Consumer Credit Act to your card company to get the money back.
If the item is for less than £100 or you bought it on debit card, try the Visa or Mastercard chargeback schemes, explained above.
If neither of these work, or you don't qualify, you'll have to become a creditor, where it's unlikely you'll get much of a refund.
Can I still use a gift voucher?
Yes, for now. There is no law compelling companies to accept them when they go into administration. In fact, firms usually do not accept them.
In this case, Comet is accepting gift vouchers, except for those issued by corporate customers such as insurers.
It's important to use them as soon as possible. Once Comet stops trading they will be invalid, and you may have no choice but to become a creditor with little hope of getting much of your money back.
It's unclear whether or not you can claim for gift cards from your credit card provider if they are for more than £100, as no definitive rule applies here. The Office of Fair Trading says you may get your money back in this circumstance, but this is a largely untested area of law.
Will warranties be honoured?
If you bought an extended warranty (if so, it will say "regulated by the Financial Services Authority"), it is likely to be with a third party insurer rather than Comet, in which case it is still valid regardless of what happens to Comet.
If it is an service agreement with Comet, Deloitte says it is still valid. However, once Comet stops trading, this guarantee dies.