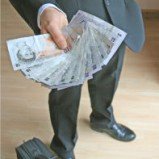 Energy supplier Eon will pay back £1.4 million to 94,000 former customers after a cock-up meant they were overcharged.
Customers will get back up to £100 each, though the average figure is £14.83. This includes 8% interest on the amount they were incorrectly charged.
Key Points
94,000 overcharged following cock-up
Average refund of £15 each
Eon to also pay £300k into chairty fund
Eon will also pay £300,000 into a consumer fund, run by charity Age UK.
The energy giant agreed to pay the money after reaching an agreement with regulator Ofgem.
Audrey Gallacher, director of energy at lobby group Consumer Focus, says: "Today's agreement sends a welcome message to the energy industry that not sticking to the rules has repercussions."
What went wrong?
Eon has admitted a computer glitch meant many who left the company following price hikes in 2008 and 2011 were wrongly charged an exit fee or were wrongly billed at the higher price for their final few days with Eon, even though the hike had not come into effect at that time.
The giant doesn't even know for certain who was charged. But it has identified 94,000 who were hit with one of those two charges.
Eon shouldn't have levied an exit fee because customers are given 30 days' notice of a price rise, giving them time to switch before the increase, under Ofgem rules.
How will Eon pay the money back?
About 94,000 consumers will receive a cheque in January.
Do I have to claim?
Eon says it has already identified those affected, even if they have moved home since.
But if you find any incorrect charges on your bill, make a claim yourself to Eon if you don't get a cheque in January.
What's this fund?
The fund to which Eon will pay £300,000 into is in Age UK's charge. The cash will help the charity offer advice on benefits and energy saving measures.
'Sorry to let customers down'
Eon customer service director David Bird says: "We are very sorry to have let down some of our former customers and have made clear that we will refund the money plus interest.
"Our systems are being updated to ensure this mistake can never happen again."