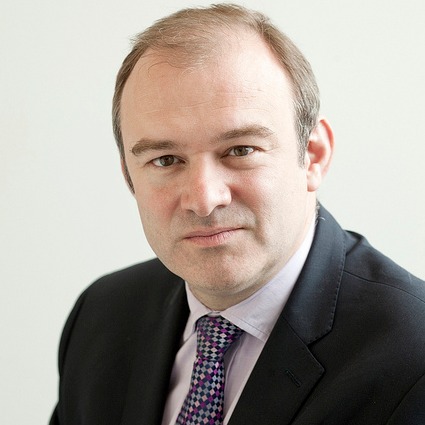 Millions of households are to be moved to better energy deals, with suppliers limited to four tariffs per fuel, under proposals published by the Government today.
Energy Secretary Ed Davey (right) announced the coalition will force all suppliers to move customers to a new deal, if it's cheaper than what they're currently paying, as quickly as possible – by summer 2014 at the latest.
Instant video reaction from MoneySavingExpert.com founder Martin Lewis below (done straight away — so things may have changed as the finer detail was uncovered).
For more from Martin on today's announcement, see his Energy change likely to mean 100s of new tariffs blog post.
What's proposed?
Here are the key Government plans:
Suppliers will be limited to four tariffs per fuel – four for gas and four for electricity. However, collective switching schemes will be able to negotiate prices separately. Firms can offer fewer than four tariffs, as long as at least one is a standard variable rate.


These four tariffs will include one standard variable rate tariff and one fixed rate tariff. The remaining two tariffs can be chosen by the provider – for example, it may want to include a green tariff or a cheaper online deal. Suppliers will be able to offer discounts for dual fuel.


While there will be a maximum of four tariffs, suppliers can offer different variants of these depending on how people pay. So they could include discounts for direct debit or a premium for pre-payment.


Customers will be moved to one of these new tariffs, depending on the type of deal they want (eg, fixed or variable), if it's cheaper than what they currently pay. It's unclear how this will happen – the Government says these details are still being decided.


'Dead' tariffs, which are expensive deals households may have been languishing on for years, will be axed.
Prices will still vary depending on where people live.
Switching still alive
Today's announcement doesn't mean an end to switching. The deals consumers will be moved to will be the cheapest for that provider, not for the whole market.
The move follows weeks of confusion about the Government's plans to simplify the market and reduce bills for hard-pressed families.
The proposals set out today are open for consultation until 4 January.
Martin Lewis, MoneySavingExpert.com creator, says: "This isn't the end of switching, as although the plans say consumers have to be moved onto the cheapest price from their supplier, it doesn't mean another provider isn't offering a cheaper deal.
"The homogenisation of tariffs means those who switch regularly and get the cheapest deals now will pay a lot more. Those who never switch and don't engage in the marketplace should pay a little less.

"However, what really counts here is how tight the regulation is linking consumer energy pricing with wholesale prices – and there was scant mention of that."
Cameron pledge
Prime Minister David Cameron trailed these moves last month when he told MPs the Government would legislate so gas and electricity companies "have to give the lowest tariff to their customers".
Energy regulator Ofgem also announced plans to force suppliers to offer their cheapest tariff to customers. But Ofgem said firms would only be required to tell customers about their best deals, rather than be forced to actually give them to consumers. Today's news kills this plan.
Those announcements came in the midst of five of the big six firms announcing price rises, with British Gas's average 6% gas and electricity hike having come into force last Friday.
Davey says: "Bill payers will no longer face the impossible choice between hundreds of tariffs.
"Each customer will have a maximum of four tariffs for gas or electricity per supplier to consider.
"And households will have personalised information from their supplier on their bills about the cheapest tariff the supplier offers for their payment method, and the cheapest tariff overall."