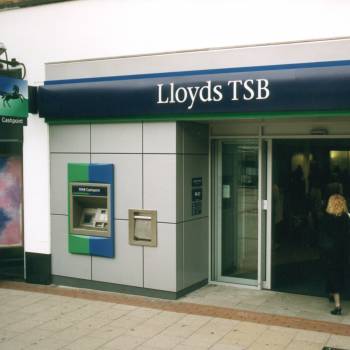 Lloyds Banking Group is writing to millions of customers this week to explain how their banking arrangements will change as it prepares to sell over 600 branches to the Co-op.
For the immediate future, though, there's little practical difference for these Lloyds TSB and Cheltenham & Gloucester customers other than new branding and new cards, although by the end of 2013 their accounts will eventually be transferred to the Co-operative Bank.
This shake-up was first announced last year.
Who is affected and what's happening?
The letters, which began to be sent out on Monday, tell 3.6 million customers in England and Wales they'll be moving from Lloyds TSB's banking licence to Lloyds TSB Scotland's banking licence.
A further million customers who will be moving to Co-op are already part of Lloyds TSB Scotland.
In total, 632 branches are being transferred — see a full list — but some of their customers, such as those with business accounts, have already been told they are remaining with Lloyds and will be switched to a different branch.
Once all branches and accounts are under one banking licence, which is expected to happen by the second quarter of next year, Lloyds TSB Scotland will be re-named TSB Bank.
All Lloyds TSB Scotland customers (excluding most business banking customers), regardless of what product they have, will become part of TSB Bank.
For everyone else, as a general rule of thumb, if your current account is at a branch which is being transferred, you will be too, and it's likely any other products you may have such as a savings account, loan or mortgage will also be transferred.
If you don't have a current account with Lloyds TSB or C&G, but do have another product at a branch which is being transferred, you may also be moved across.
The letters being sent this week will list which of your products will move to the Lloyds TSB Scotland licence and these will therefore eventually be owned by the Co-op.
What happens in the longer term?
TSB customers will eventually be transferred to the Co-op by the end of next year.
However, the full rebranding exercise may take a few years.
How is my banking affected?
Very little will change for the majority of customers at first, as sort codes, account numbers, standing orders and direct debits stay the same.
Online banking access, interest rates and other terms and conditions will also stay the same.
But customers will be sent TSB-branded debit and credit cards in the first half of next year.
While branches will still be owned by Lloyds Banking Group at that stage, they'll be run as a separate bank. Customers who are with TSB will not be able to use Lloyds or C&G branches and vice versa.
What if I want to stay with Lloyds?
You'll be allowed to stay, but Lloyds Banking Group hasn't finalised its plans yet. It will announce how customers can stick with it in the first three months of next year.
Why is Lloyds making the sale?
The government-backed bank is being forced to off-load the branches under European competition rules due to its sheer size. Lloyds Banking Group was formed in 2009 after Lloyds TSB bought struggling Halifax/Bank of Scotland.
Additional reporting by the Press Association.