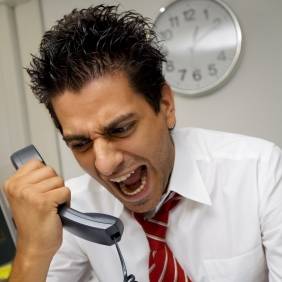 A home renovations firm has been fined £90,000 for "relentlessly" plaguing people with thousands of unwanted marketing calls.
Glasgow-based DM Design, which sells kitchens, bathrooms and bedrooms, rang people without checking if they had opted out of receiving marketing calls and ignored most complaints.
In one instance, a salesperson refused to remove a complainant's details from the company's system, and threatened to "continue to call at more incovenient times like Sunday lunchtime". (For help with stopping unwanted sales calls, see our Stop Junk Calls and Stop Spam Texts guides.)
The Information Commissioner's Office hit DM Design with the fine after it and the Telephone Preference Service received 1,945 complaints between June 2011 and November 2012.
The ICO found DM Design caused "substantial distress". Complainants told it that:
Callers were rude and unprofessional.
Calls had been going on for "years" and were "relentless".
The calls were a nuisance and invasion of privacy.
One caller claimed the calls caused him a loss by incurring international call charges.
It's the first time the ICO has used beefed-up powers to fine companies for breaking codes on marketing phone calls. Last year, the two owners of a marketing firm were fined £440,000 for sending millions of spam texts.
Complaints about cold-calling rose 40% in 2011/12, the ICO said last year. Technology security firm Cloudmark estimates 350,000 unique spam texts were sent worldwide in 2012 - each of those 350,000 texts would have been sent to thousands of numbers.
Two other companies have been warned they can expect "significant penalties" in the coming weeks for similar practices to DM Design's. The ICO says it's also investigating another 10 companies in relation to cold-calling and sending spam text messages.
Information Commissioner Christopher Graham says: "Today's action sends out a clear message to the marketing industry that this menace will not be tolerated. This company showed a clear disregard for the law and a lamentable attitude toward the people whose day they were disturbing. This is not good enough."