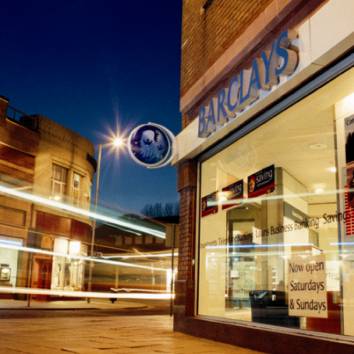 When MoneySavingExpert.com creator Martin Lewis was invited to one of Barclays' flagship branches in west London, he was under no illusion the bank would be on its best behaviour. But did two of its top bosses convince him it really has consumers at the front of its mind?
Martin first met Barnaby Davis, Barclays' managing director of UK branches, at an event in the Houses of Parliament in May. He tried to hook Martin into a bank visit by telling him of its "Martin Lewis test".
The test? Bigwigs at a Barclays conference were given the statement "Barclays is the best bank". They had to go away and devise what they'd need to change at the bank in order to come up with something so good, that Martin Lewis would rubber-stamp it.
Martin agreed, and three months later he called into its Hammersmith branch to put customer service to the test, and see if Barclays really was a different beast with sales incentives a distant memory. But how did it fare?
Mis-selling scandals
Having both joined Barclays straight from school at 16, it's undeniable that Davis, and Steven Cooper, the head of personal and business banking, have both lived through various bank mis-selling scandals in all their ugly glory.
"I come to work because I want to reverse what happened in the mid-1980s," explained Davis. "Everything I do is with the customer in mind."
Cooper responded: "It will take, five, 10, 15 years to get back to where we need to be. But it's no longer the individual banks that are in the wrong, it's the banking industry as a whole."
It may be banking as a whole that's caused the systemic failings in an industry which needs to change, but Davis said Barclays has been trying to change its culture since 2009 by holding weekly conference calls across its branch network.
He explained: "It's a chance to give feedback and talk to about 1,500 staff at once, with a Q&A opportunity as well. For example, this week we would be giving context to staff about why the industry is starting seven-day switching."
These conference calls might be helping staff sing from the same songsheet, but with Martin highlighting the latest MSE poll results which rated banks' service, it's clear this isn't feeding through to customers.
"We've got a long way to go," Davis admitted. "But what we do know is we're gradually improving."
The mobile banking boom
Barclays may say it's the "go-to" bank, but with fewer customers physically going into branches, what will its customer service look like in the future?
Cooper highlighted the importance in the evolution of mobile banking for Barclays and its customers.
"Mobile banking is hugely important to us," Cooper said.
"We have 1.8 million regular users, defined as people that use it at least once a month, and 25% of those mobile banking users have never used internet banking.
"We like mobile as people can use it 24/7. Having access to mobile banking gives customers control and power over something that they previously feared."
Sipping from his Barclays-branded mug, Davis added: "We have 1,600 branches, 17,000 staff, one million customers that go into branches, and half a billion transactions – and young people use branches more than people think."
Not wanting to play down the importance of branches in certain situations, Martin threw in a disclaimer: "I genuinely believe that a bank's job is to sell and cross sell to customers – staff are sales people, not advisors.
"Consumers need to walk in with a healthy dose of scepticism. However to be fair, the one time this is different is when someone is having severe financial problems – then talking to your bank is important."
The Barclays promise
Davis and Cooper were adamant that Barclays does not cross-sell and that it has taken away targets.
Undeterred by Martin's untiring scepticism, Davis focused his attention to the framed mantra on his desk to try to hammer home his point.
It read: "Our commitment to you. At Barclays our staff receive no sales incentive or commissions. Our only focus is on providing you with great service and helping you meet your financial needs."
Cooper said: "The biggest thing I don't want is another PPI. There's a strong drive to change at the most senior level, but it takes time to trickle down.
"How you reward people going forward is a big question. For some people, hitting sales targets is all they've ever known.
"At the moment staff are purely incentivised on a monthly basis by what customers say about the branch they work in. I've been staggered by the whole infrastructure behind incentive schemes – what a waste of time.
"I'd rather do away with all of it. I fundamentally believe that people come to work to do a good job."
But changing a sales-incentivised culture is no mean feat. Both even admitted some local managers still effectively set targets by geeing up their staff and talking about performance. Many staff from a target driven culture still see this as something they need to aim for.
Has Barclays really changed?
It's all well and good chatting to two top executives, well versed in the testament of Barclays. But what happened when Martin stepped onto the shop floor with staff members who deal with customers' finances all the time?
Given the scenario of a customer looking for options to deal with £2,000 of credit card debt, one staff member said she would tell her remortgaging her property was a good, viable option.
Martin was shaking his head. His view is a cheap balance transfer should be the first option – as by remortgaging you'd be securing unsecure debt and spreading it over a very long period, which even at a low rate can be very costly. There was more discussion, and then the Barclays team suggested consolidating into a loan.
Martin said: "The cheapest option by far for someone with a decent credit score is a balance transfer. A loan has its place for some as the repayments are structured, which some people prefer."

Martin then pushed Barclays on this, suggesting the reason it wouldn't suggest a credit card was because it had no products to offer. If someone's debt is on a Barclaycard, they can't shift debt to it.

They agreed that was true, so Martin concluded: "You can't give people the correct advice because you won't go from a cross market option. Even if you gave totally unbiased, well meaning information from your own product range that will rarely make it the very best thing to do".
So as he headed back to MSE Towers, was Martin convinced that Barclays really has changed?
Martin said: "I'm closer to believing that Barclays is trying to drive things forward in a better direction which, at the bare minimum, will lead to less mis-selling.
"However it does have the big job of pulling the caravan along with them in terms of its 17,000 staff. Even if it does succeed in changing the bank, it's still not the place to go for advice. All it'll try to do is offer you new products that are not the best on the market.
"If this is the only bank in the marketplace that is not incentivising its staff, and the answers it's giving are still far from what I would expect, it gives me a shudder of fear about what is going on in the rest of the banking sector."
So it looks like Barclays has some way to go to gain Martin's stamp of approval in its goal of being the "best bank".