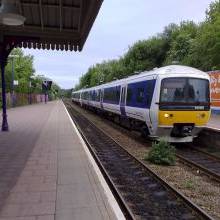 Cash-strapped rail commuters will face further headaches, as it's been revealed that regulated fares will increase by up to 9.1% in England next year.
The July retail prices index (RPI) inflation measure, which is used to determine the following January's annual rise for regulated rail fares, which include season tickets, fell to 3.1% last month from 3.3% in June, the Office for National Statistics says (see our Cheap Trains guide for tips on cutting costs).
The average regulated rail fare increase in England is calculated by adding one percentage point to July's RPI. So the average 4.1% price hike will kick in from January 2014.
However as the increase is an average figure, it means each train company can still hike fares by up to 5% above this figure, as long as the rise on all its regulated fares averages 4.1%. This means some travellers could see price hikes of up to 9.1%.
If a 4.1% fare rise is applied, the price of a 12-month season ticket from Deal, Canterbury or Ramsgate in Kent to London would rise above £5,000 from January. Similarly, the cost of a season ticket from Basingstoke in Hampshire to London would breach the £4,000 mark.
Actual prices for each route will be announced later this year. Similarly, unregulated fares, which include cheap advance tickets and peak-time tickets, are determined by train companies rather than the Government. They will be set later this year.
This year, passengers were hit with a 4.2% average rise in regulated fares, although this was lower than initial plans for a 6.2% fares surge (see the Rail fares to rise MSE News story).
In Scotland the average peak fare increase is capped at July's RPI. We're currently awaiting confirmation on what will happen in Wales.
Save money on train fares
To help you battle rising rail costs, here are some of our top tips (see our Cheap Trains guide for more):
Buy in advance. Most train companies put tickets on sale 12 weeks ahead. So the earlier you book, the more chance you have of getting one of their cheap advance tickets.
Two singles can beat a return. If you're going on a return journey, check if two singles are cheaper. It may not always be cheaper, but it's worth a try.
Get a railcard. Frequent travellers should consider a railcard, if they qualify for one. Those aged 16-25, the over-60s, those with disabilities and adults who travel with kids may all qualify. Most railcards cost £28 a year (£20 for a disabled person) and get the holder a third off many fares.
Split your ticket. Imagine you're travelling from London to Sheffield. If the train stops at Derby, check whether it's cheaper to buy a ticket from London to Derby and a second ticket from Derby to Sheffield. It's perfectly legal as long as the train stops at that intermediate station. Use our free TicketySplit iPhone app or mobile site to find out if you can get a cheaper walk-on single fare by breaking down your journey.
'Crippling fare rises'
Despite a fall in inflation, the Government is coming under pressure to change the way rail fares are calculated.
Manuel Cortes, general secretary of the Transport Salaried Staffs Association union says: "What we want is an end to these crippling year-in, year-out rail fare rises, starting in 2015 with a new formula, RPI minus 1%.
"We already have the highest rail fares in Europe and we want a firm commitment to scrap the present formula of RPI plus 1%."
Michael Roberts, chief executive of the Association of Train Operating Companies, says: "Since 2004, it has been Government policy to allow regulated fares to rise above inflation in order to support investment in more trains, better stations and faster services.
"This is helping to drive passenger satisfaction to near-record levels while seeking to reduce taxpayers' contribution towards the cost of running the railways.
Inflation down
Meanwhile, the rate of consumer price index (CPI) inflation, which doesn't include housing costs, fell to 2.8% in July from 2.9% in June. Discounting by fashion retailers and lower air fares offsetted higher prices at the fuel pumps to help edge CPI inflation down.
Additional reporting by the Press Association.