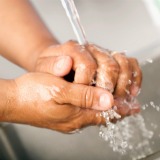 Millions of households could face a one-off extra charge of £29 on their annual bills after the UK's biggest water company said it had endured a "tough time" financially.
Thames Water's prices are subject to controls from regulator Ofwat which run out in 2015. It now says it needs to ask customers for more to cover costs that could not be predicted at the time this was set in 2009. (See our guide on how to Cut Water Bills.)
The water company, which serves 14 million customers across London and the Thames Valley, says it is asking Ofwat to allow the hike in 2014/15 to cover additional spending as well as the bad debts of customers who have failed to pay their bills.
The proposal is likely to spark anger just months after it emerged that the firm, whose revenues rose to £1.8billion in the last financial year, paid no corporation tax.
And it comes as families suffer a fall in real earnings while Thames's bills rose by an inflation-busting 6.7% in the last financial year.
The regulator will announce a decision by November. If the application is successful, the price rise will apply from next year, although the company has asked if it can spread the charge over more than one year to avoid a spike in bills.
The water company says its average bill is £354 and that after the adjustment it would remain among the lowest in the country.
A spokesman for Thames Water, which is controlled by Australia's Macquarie investment banking group, says: "We have had a tough time financially as a company because of increased costs."