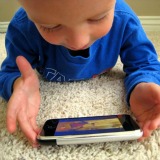 Games firms shouldn't pressure children into spending money when playing online games on phones and tablets, the Office of Fair Trading (OFT) says.
Players should be told upfront about any possible in-game costs, according to new principles to stop games firms from taking advantage of youngsters and their parents' credit cards.
The eight principles, which are under consultation until 21 November, are due to come into force early in 2014.
But MoneySavingExpert.com creator Martin Lewis says the regulator's consultation is "flaccid", and warns that problems in the industry are apparent and that games makers and app stores need to be held to account.
Earlier this year, MoneySavingExpert.com called for action on in-app purchases after we revealed the My Little Pony app tempted kids to spend £69.99 on a virtual "mountain of gems", which Martin Lewis branded "immoral" (see the My Little Pony game tempts kids to spend £70 MSE News story).
We also reported how two kids racked up a £3,200 mobile bill after playing a seemingly innocent game on their dad's iPhone (see the 'My 6yr-old spent £3,200 playing iPhone game' – how to stop it MSE News story).
The OFT's move follows an investigation into games which encourage players to buy extra features through "in-app billing".
The consumer watchdog investigated games produced by businesses in the UK, Europe and the rest of the world. It found some games included potentially unfair and aggressive commercial practices to which children may be particularly susceptible.
The OFT says it expects firms to follow the new principles, or risk action, including fines. It won't name which games it investigated.
'We need rules to stop this'
MoneySavingExpert.com founder Martin Lewis says: "When games such as My Little Pony and others charge £69 a pop for children to buy 'gems', there is something almost sinister happening.
"Many of these free games take advantage of children's confusion between virtual and real money and some parents' technical illiteracy.
"The OFT consultation is flaccid – the problems are apparent and games makers and app stores need to be held to account.
"We need rules that stop bait pricing on games predominantly marketed or targeted at children: wealth warnings both at the start of games and inside app stores to indicate it is an in-app purchase game, and caps put on how much can be spent on such purchases within an hour, which can only be removed by the cardholder."
What are the OFT's principles?
The OFT says games companies need to follow eight key principles. These include:
Making sure players are told about any costs, accurately and prominently, upfront before downloading or signing up to a game, or agreeing to make a purchase.
Games should not imply payments are required or are an integral part of the way the game is played, if neither is the case.
Games should not encourage children to make in-game purchases through aggressive sales techniques.
Payments should not be taken unless authorised. For example, users must be made aware they will only be required to enter their password once every 20 minutes, regardless of the number of transactions made within that time.
Information about the business should be clear and prominent, in particular, so consumers know who to contact in case of queries or complaints.
What did the OFT's investigation find?
The consumer watchdog investigated 38 games. It found some implied the player would somehow be letting other players or characters down if they did not obtain something by making an in-game purchase.
Other areas of concern included:
A lack of transparent, accurate and clear upfront information about costs.
Blurring the distinction between spending in-game currency and real money
Children being encouraged or incited to spend money, or to persuade others to do the same.
Cavendish Elithorn, the OFT's executive director, says: "This is a new and innovative industry that has grown very rapidly in recent years, but it needs to ensure it is treating consumers fairly and that children are protected.
"The way the sector has worked with us since we launched our investigation is encouraging, and we've already seen some positive changes to its practices.
"These principles provide a clear benchmark for how games makers should be operating. Once they are finalised, we will expect the industry to follow them, or risk enforcement action."
The OFT will also be talking to its counterparts in other countries to try to set international standards.
How can I protect my children from big bills?
In April, MoneySavingExpert.com listed 10 games which charge up to £69.99 for virtual items. (See Warning: Are your kids playing these iPhone app games? MSE News story.)
Depending on your phone make and/or model, there are a number of precautions you can take to limit your chance of being hit with a big bill:
Protect your passwords. Children are smart — they can remember passwords and Pins. There have been countless reports on the forum from parents whose children have memorised passwords and used linked accounts and credit cards. To stop kids racking up a big bill on your device, change passwords regularly and make sure they're always hidden from children if you don't want them to use them.


Always supervise your child. Ensure you know what he or she is downloading, and any extra costs they may be incurring.


Restrict in-app purchases with a password/Pin.

Apple. Tap Settings > General > Restrictions, then choose whether you need to input your password every time you make a purchase, or whether writing it once means you don't need to do again for 15 minutes.

Android. Set a Pin with your Google Play account. All purchases will then require the Pin. Devices don't come with this feature already activated, so make sure you do it before giving your phone to a child.

Blackberry. Making in-app purchases on a Blackberry is possible once you've logged in with your Blackberry ID and password. You will stay logged in for 20 minutes after entering the password. As far as we can see, there is no way to disable this. Blackberry has not answered our calls so this information has come from its website.

Windows phones. You can set up Kid's Corner (but it's not the default setting), which gives the child their own phone area within your handset, with restricted access to your device and certain apps, websites and services. In-app purchases are blocked, as is access to the rest of your phone (messages, contacts, emails, etc). Nevertheless, you always need to enter a password to buy anything.


Use parental controls on your device. Ask your mobile network provider about the financial and parental controls available on your device. On pay-as-you-go plans, for example, you can block certain services. Contact your provider straight away if you get an unexpectedly high bill.


Unlink your credit/debit card from your account. When using iTunes, you can purchase vouchers for your account instead of having a credit/debit card linked to it, so you can't automatically purchase a service.


Ask your mobile provider to cut the bill. If you've been stung by a massive charge, contact your mobile provider and ask it to refund the money as a gesture of goodwill. It may not work, but you won't know until you try. Take this tweet from @missy_bee: "My son spent over £2,000 on apps on the iPad but when I contacted Apple to explain, they were brilliant and refunded the lot."