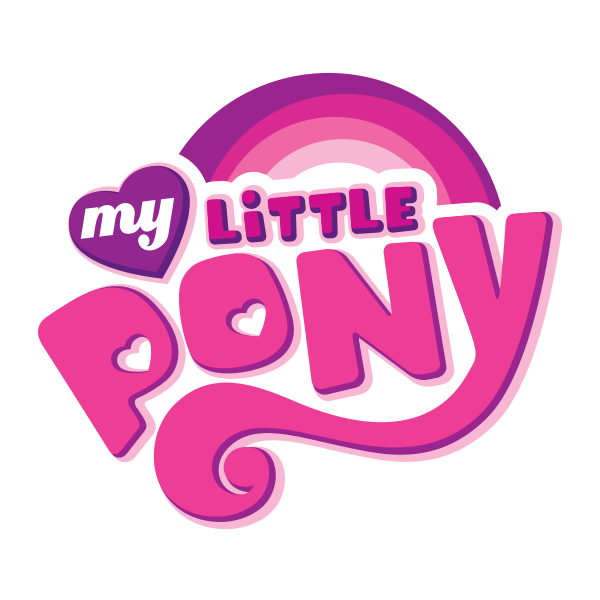 MoneySavingExpert.com is declaring war on mobile and tablet games that tempt kids to splash out huge sums of their parents' cash. Today, we expose the My Little Pony mobile and tablet game, which encourages kids to spend £70 on 'virtual gems', yet its makers call it "great value".
Often, it costs little or nothing to download a game. But the true horror comes from charges for additional features, known as in-app billing, which can total thousands of pounds once you or your kids start playing.
Key Points
My Little Pony game charges hefty in-app fees
Priciest in-app purchase costs £69.99
But the game is aimed at kids
What's more, security on many devices is so lax, it's easy for kids to spend.

MoneySavingExpert.com is calling for regulation to be introduced to ensure kids aren't exploited by games. There are ways to prevent this nightmare scenario (detailed at the end of this article).

The My Little Pony app, developed by Gameloft, is free on iTunes and Google Play. Featuring colourful cartoon ponies, it's clearly aimed at young children.

Yet it charges up to a mammoth £69.99 for in-app purchases. That fee is for a virtual 'mountain of gems' (see pic, below).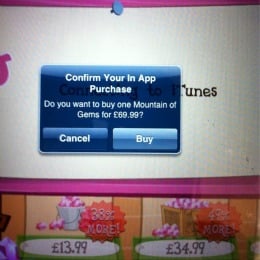 We were tweeted by one user who said: "My little girl ran up a £420 bill on gems –I phoned Apple and it refunded the full amount."
Forum users have also reported kids running up huge bills on apps including The Simpsons: Tapped Out and The Smurfs, as well as similar games on Facebook.
Only last week, we reported how two boys racked up a mega £3,200 mobile bill playing a seemingly innocent game on an iPhone belonging to their dad (see the My 6yr-old spent £3,200 playing iPhone game MSE News story).
Mail Online is today running a story on a five-year-old who inadvertently spent £1,700 downloading extras on the 'free' Zombies Vs Ninjas iPad game.
Disgusting and immoral
MoneySavingExpert.com creator Martin Lewis says: "It's pretty clear-cut that the My Little Pony app is not aimed at adults. This is a specific children's game and the fact it encourages children to spend £69.99 at a time on a 'mountain of gems' is disgusting and immoral.
"The makers of this game should be ashamed of themselves, the firm licensing this game should be ashamed of itself and the companies that sell this app, which tries to bait children into spending this much, should be ashamed of themselves.
"This is not a trivial issue, it is targeting children in a way that is inappropriate. If companies such as iTunes and Google which allow software like this to be sold in their stores won't take action, we need some kind of regulation to ensure kids aren't exploited in this way and that parents' pockets are protected."
When we asked the major providers of mobile purchases last week, Apple, Blackberry and Google (which runs Android software) refused to answer or take responsibility for why it is so easy to spend money without putting in a password, especially as the default settings are often the least secure.
MoneySavingExpert.com is also calling for UK customers to get the same compensation as US consumers, now American iPad and iPhone users whose kids ran up huge bills making in-app games purchases could be refunded as a result of a US lawsuit (see the Apple UK urged to refund app cash MSE News Story).
'Great value' — really?
Gameloft says all its "freemium" games contain warnings about in-app purchases, and if a device is configured correctly, it is impossible for a child to make any purchase without parental permission (see below for how to do this).
A spokesman for Gameloft says: "Our games are enjoyed by players of all ages and My Little Pony is no different. The higher price points are designed for adults and hardcore gamers and offer great value for these segments.
"Purchases are entirely optional, you don't have to pay to play. In-app purchases provide a great way to progress faster and get your hands on additional content, but they're never a requirement."
It adds that customers who encounter problems or have any questions can contact Gameloft by emailing support@gameloft.com.
Prevent MASSIVE mobile bills
Depending on your phone make and/or model, there are a number of precautions you can take to limit your chance of being hit with a big bill:
Protect your passwords. Children are smart — they can remember passwords and Pins. There have been countless reports on the forum from parents whose children have memorised passwords and used linked accounts and credit cards. To stop kids racking up a big bill on your device, change passwords regularly and make sure they're always hidden from children if you don't want them to use them.


Always supervise your child. Ensure you know what he or she is downloading, and any extra costs they may be incurring.


Restrict in-app purchases with a password/Pin.

Apple. Tap Settings > General > Restrictions, then choose whether you need to input your password every time you make a purchase, or whether writing it once means you don't need to do again for 15 minutes.

Android. Set a Pin with your Google Play account. All purchases will then require the Pin. Devices don't come with this feature already activated, so make sure you do it before giving your phone to a child.

Blackberry. Making in-app purchases on a Blackberry is possible once you've logged in with your Blackberry ID and password. You will stay logged in for 20 minutes after entering the password. As far as we can see, there is no way to disable this. Blackberry has not answered our calls so this information has come from its website.

Windows phones. You can set up Kid's Corner (but it's not the default setting), which gives the child their own phone area within your handset, with restricted access to your device and certain apps, websites and services. In-app purchases are blocked, as is access to the rest of your phone (messages, contacts, emails, etc). Nevertheless, you always need to enter a password to buy anything.


Use parental controls on your device. Ask your mobile network provider about the financial and parental controls available on your device. On pay-as-you-go plans, for example, you can block certain services. Contact your provider straight away if you get an unexpectedly high bill.


Unlink your credit/debit card from your account. When using iTunes, you can purchase vouchers for your account instead of having a credit/debit card linked to it, so you can't automatically purchase a service.


Ask your mobile provider to cut the bill. If you've been stung by a massive charge, contact your mobile provider and ask it to refund the money as a gesture of goodwill. It may not work, but you won't know until you try. Take this tweet from @missy_bee: "My son spent over £2,000 on apps on the iPad but when I contacted Apple to explain, they were brilliant and refunded the lot."