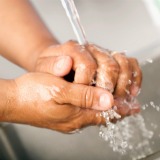 Thames Water's attempt to hike customers' water bills by an extra £29 next year has been thrown out by the industry regulator.
Ofwat says an 8% one-off increase to households' average bills of £354 can't be justified, confirming a draft ruling against the firm made last month (see our Water Bills guide to cut costs).
The water and sewerage company, which serves about 14 million customers in and around London, is subject to controls from regulator Ofwat which run out in 2015.
It said it wanted to raise prices because of cash-strapped customers failing to pay their bills and the cost of a planned super-sewer under London.
But Ofwat chief regulation officer Sonia Brown says: "We said we would challenge Thames's application, in the interests of customers. We did just that and on the evidence provided, we are not convinced that an extra bill increase is justified."
Ofwat's decision is final, but Thames Water could appeal to the Competition Commission.
The company said: "We will review the decision carefully before deciding on our next steps."
Thames Water can still raise next year's bills by up to 1.4% above RPI inflation – currently running at 3.2% – meaning customers face a potential increase of around 4.6%, or £16, from April.
Ofwat chairman Jonson Cox recently wrote to water firms asking them to consider whether they need to increase their bills by the full amount allowed "given the hard time their customers are facing".