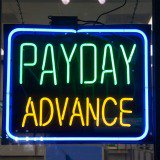 Payday loan adverts from Wonga, Pounds to Pocket and Peachy.co.uk have been reported to the advertising watchdog by Citizens Advice.
Complaints about seven ads from six different payday lenders and credit brokers, which were used between November 2013 and February 2014, have been referred to the Advertising Standards Authority (see our Payday Loan Alternatives guide for help if you're considering one of these loans).
They included TV commercials, text messages, email, flyers and even an ad on a sandwich wrapper.
Citizens Advice says complaints included failing to declare the cost of a loan as well as trivialising borrowing by implying loans can be used for shopping sprees.
Last month, a Citizens Advice complaint led to the ASA banning an advert from loan firm Payday Pig, branding it "irresponsible" for using cartoon imagery and referring to loans being used to fund a shopping trip or short break away.
'Irresponsible' ads trivialise loans
Citizens Advice chief executive Gillian Guy says: "Adverts that trivialise payday loans and suggest borrowing should be used to pay for treats should be taken off air and removed. Animations, cheery puns and suggestions that loans could fund a shopping spree are a far cry away from the reality of payday lending many of our clients experience.
"Day in, day out Citizens Advice is helping people deal with the devastation caused by irresponsible payday lending. Loans taken out to cover a short-fall have turned into a long-term nightmare as people struggle to keep up with payments, and high charges increase debts further."
The complaints have also been shared with the Financial Conduct Authority, which plans a crackdown on the industry when it starts to regulate it from 1 April (see the Payday loan firms face legal crackdown MSE News story).
Until then, the industry is regulated by the Office of Fair Trading, which today suspended the consumer credit licence of Micro Lend, an online payday lender based in north London, meaning it can no longer trade. It's the first time the OFT has suspended a payday lender's credit licence.