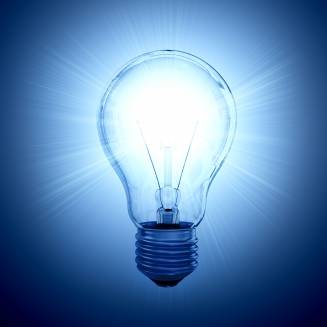 If you're affected by a lengthy power cut after next April, you'll get more compensation under a crackdown on the way energy companies deal with electricity failures.
Regulator Ofgem has also ordered Scottish and Southern Energy (SSE) and UK Power Networks (UKPN) to pay £3.3 million after an investigation into how they handled last winter's storms (join our free Cheap Energy Club to get the best tariff for you).
In England, Scotland and Wales, Ofgem rules state if severe weather means you're without electricity for 24 hours continuously (48 hours in some cases), you're entitled to £27 compensation plus a further £27 for each additional 12-hour continuous outage.
But from 1 April 2015, the minimum payout will rise from £27 to £70, while the amount households get for each additional 12 hours without power will also increase from £27 to £70.
The total cap for payouts will rise from £216 to £700, while Ofgem also says customers should get paid the cash automatically, instead of them having to ask for one.
The regulator says the changes will strengthen the incentives for companies to act quickly and reconnect customers as soon as possible.
If you're affected by a power, cut you need to make a claim to your electricity distributor – instead of the firm you pay your bills to – within three months of the issue.
£3.3 million payout
Today's move comes as SSE and UKPN agreed to pay £3.3 million to charities and organisations which play an important role in helping vulnerable customers during power cuts and severe weather, including the British Red Cross.
The regulator says the two firms' networks bore the brunt of last winter's storms in the south of England and between them they restored power to more than 95% of customers within 48 hours.
But almost 16,000 customers remained affected for more than 48 hours and Ofgem says "they could have done more to get customers reconnected faster and to keep them better updated on what was happening".
The firms have already paid £4.7 million to affected customers, and today's announcement brings the total to £8 million.
Ofgem adds: "The companies have recognised that they must improve their procedures for any future major interruption and Ofgem has today put the industry on notice that any repeat of last year's performance issues will trigger further action."
'Welcome news for energy users'
Steve Nowottny, consumer expert at MoneySavingExpert.com, says: "Today's announcement is welcome news for energy users – as we saw last Christmas, power cuts can be hugely disruptive and it's right that those affected can claim for proper levels of compensation.
"These changes must ensure companies now become more switched on about dealing with power outages and reconnecting customers as quickly as possible. Let's hope there's no repeat of the storms we saw last winter – but if the worst happens, better communication as well as compensation is essential."
'Always room for improvement'
Basil Scarsella, chief executive of UK Power Networks, said: "Customer service is our priority but there is always room for improvement. Some of the measures we have put in place since December include training extra call-takers, damage assessment teams and customer information officers to restore power supplies quicker and keep customers better informed in future extreme events."
Stuart Hogarth, director of distribution at SSE Power Distribution, says: "We have asked for, and listened carefully to, the feedback of our customers and have today set out a range of improvements on customer communications, looking after those who need it most during a power cut and improving further the reliability of the network. This is not the end of the process, our customers views never stop being important to us and it is my aim that we should not only meet but exceed our customers expectations."
Additional reporting by the Press Association.