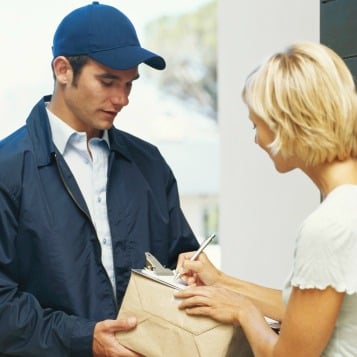 Yodel has again been named among the worst delivery firms in the UK, according to MoneySavingExpert.com's latest annual poll of more than 9,000 users. But DX and iPost Parcels pipped it to the wooden spoon.
In a poll which ran from 9-16 December, nearly 45% of the 6,229 Yodel customers who voted said its service was 'poor'. However Yodel's service rating has improved since last year, when it was in last place with 58% of its customers voting it as 'bad' (see our Delivery Rights guide to fight back).
Yodel has apologised for the backlogs over recent days that have led to major delivery delays and says it is now operating a "normal Christmas service" after it suspended collections for a few days last week (see our Last Christmas Order Dates guide).
DX performed worst, with 57% of the 795 customers who had used its service rating it poor, while iPost Parcels didn't fare much better, with 48% of people rating its service as poor.
DX and iPost Parcels didn't feature in last year's poll so we can't compare their results, but interestingly, iPost Parcels is part of the same group as UK Mail, which was voted sixth poorest out of the 16 delivery firms.
DPD and Collect Plus, which is actually a joint venture with Yodel, fared the best with DPD coming out top for the second year in a row. Of those people who had used its service in the past year, 66% rated their experience as great.
If you've suffered poor service, complain
Martin Lewis, founder of MoneySavingExpert.com, says: "Yet again Yodel, one of the UK's biggest firms, has performed abysmally in our poll. It didn't do as badly as last year, then again the poll opened before its Christmas delivery crisis became well publicised.
"However, this year it isn't on its own, DX and iPost Parcels managed to pip it to the wooden spoon, with over 57% and 48% of people, respectively, rating it poor.
"One of the problems is consumers can take little action against firms that provide poor delivery as their relationship is indirect. We pay the retailer, the retailer picks and pays the delivery company – so the end customer seems to mean little for many of the firms.
"The solution is customers need to put pressure on retailers to stop inflicting this type of delivery on us. Any customer who has an abominable delivery service should complain to the retailer and ask them to justify why they use firms with dire reputations and pressure them to add other options.
"Ultimately, though, until we vote with our pockets and stop using firms that employ poor delivery agencies, that won't happen."
The results
The full results from our poll are in the table below, ranked in order of the poorest rating:
The worst parcel firms – as ranked by MSE users
Firm
Great
OK
Poor
DX
12%
31%
57%
iPost Parcels
26%
26%
48%
Yodel
37%
18%
45%
City Link
25%
45%
30%
UK Mail
27%
45%
28%
TNT
28%
49%
23%
Hermes/myHermes
39%
28%
33%
Interlink
31%
49%
21%
DHL
40%
45%
14%
Parcelforce
43%
42%
15%
Amazon Logistics (i)
48%
34%
18%
FedEx UK
43%
45%
14%
UPS
49%
37%
15%
Royal Mail Parcels
50%
37%
13%
Collect Plus
53%
34%
13%
DPD
66%
21%
13%
Order calculated by 0 points for poor, 1 for OK and 2 for great. Percentages may not hit 100% due to rounding. 9,139 people voted, they could vote for more than one firm. (i) Not always used by Amazon.
What do the delivery firms say?
A spokesperson for DX says: "We are obviously very disappointed with the feedback from the 455 respondents in this poll, especially as we regularly receive such positive feedback from the millions of deliveries we make every week.
"We aim to successfully deliver 100% every day and consistently achieve industry leading service levels that are very close to 100%. This is reflected in the positive results we achieve from the various industry recognised customer surveys we undertake. However, we would obviously like to apologise to anyone who has experienced any problems with our service.
"We remain committed to continually focussing on improving our service by listening to our customers to identify any issues and implementing enhancements that will resolve them."
Guy Buswell, CEO of the UK Mail Group, which includes iPost Parcels, says: "We aim to deliver excellent customer service to all our iPost Parcels customers and are disappointed to see the results of the MSE poll. Feedback about iPost Parcels on independent reviews websites is, in general, extremely positive and does not reflect the MSE findings.
"We are currently very busy as expected, but our plans for this period are on track and we have continued to collect and deliver throughout the December peak. We do, of course, appreciate this time of year can be extremely frustrating and stressful for anyone waiting for a parcel."
Dick Stead, executive chairman of Yodel, says: "We're always very interested in, and welcome, consumer feedback to help us to improve our service. We will not comment specifically on the results of this poll. As we pointed out last year this poll is unverified and we have concerns that it is open to influence by anyone with a vested interest in its outcome.
"We are committed to listening to consumer feedback, surveying thousands of customers every week, as well as proactively contacting consumers on social media and offering customer service via webchat, telephone, social media, feedback forms on our website and email.
"A recent poll of nearly 29,000 verified Yodel customers showed that 79.77% were delighted with their delivery experience. This is nearly 2% higher than the average published customer satisfaction result for UK retailers."