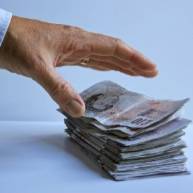 Complaints about Payment Protection Insurance (PPI) have fallen since the 2012 peak, but the Financial Ombudsman says it will be dealing with the aftermath of the scandal for 'several more years yet'.
In a report published today, chief ombudsman Caroline Wayman says the service continues to receive high volumes of new PPI complaints, with an average of 4,000 new cases a week.
Although this is a big drop from the 12,000 per week it received in late 2012, complaints about PPI still dominate the Financial Ombudsman's caseload, accounting for nearly twice as many complaints as those about all other issues combined.
This year, it expects to resolve 320,000 PPI cases and hopes that by March 2016, the number of unresolved PPI complaints will have fallen to 180,000.
In total, the Ombudsman's received more than 1.25 million complaints about PPI, with the majority of those in the last two years. See our Reclaim PPI for free guide to claim £1,000s back for mis-selling.
'Complaints on this scale are unprecedented'
In a report released today, 'Our plans and budget 2015/2016', chief ombudsman Caroline Wayman states: "Dealing with numbers of complaints on this scale has been unprecedented for the ombudsman service. Looking at the number of complaints we have received so far, 2014/2015 is proving to be another challenging year.

"During the year, we have continued to increase capacity to deal with the ongoing consequences of PPI mis-selling. The investment we have made – primarily in the recruitment, development and retention of our people – means that we expect to resolve around 320,000 PPI cases this year.
"As we work through the unprecedented number of PPI cases we have received over the last few years, it is clear that we will still be dealing with the fallout of PPI for several more years yet."
Towards the end of last year, Barclays, HSBC, Lloyds and RBS all announced they'd set aside extra provisions to cover PPI mis-selling:
Barclays set aside an extra £170 million, taking its total provision to £5.02 billion
HSBC set aside an additional £353 million, taking its total PPI mi-selling bill to £2.46 billion
Lloyds Banking Group put aside a further £900 million, taking its total PPI pot to more than £11 billion
RBS has put aside a further £100 million, taking its total provision for PPI to £3.3 billion
According to the latest statistics from the Financial Conduct Authority, £375.6 million was paid out in October 2014, meaning £17.3 billion has been paid out since January 2011 by the firms that make up the vast majority of PPI complaints. However, the overall figure is likely to be much higher.
Complaints other than PPI
The Financial Ombudsman received 65,077 complaints about banking and credit (including mortgages) in 2013/14, which was lower than the 77,176 it received in the previous year. But it expects to receive 76,000 new cases by the end of 2014/15.
Grievances include customers who are experiencing financial pressure and have asked for extra help or flexibility from their lender not being made aware that mortgage interest rates could rise.
In other areas, it's also seen an increase in complaints around short-term credit such as payday loans and credit broking, which is now regulated by the Financial Conduct Authority.
And in the summer of 2014, the number of new cases on packaged bank accounts increased from 50 cases a week to 500. Currently, it receives around 300 complaints a week on packaged bank accounts and if this number continues, it expects to see around 16,000 new cases this year.