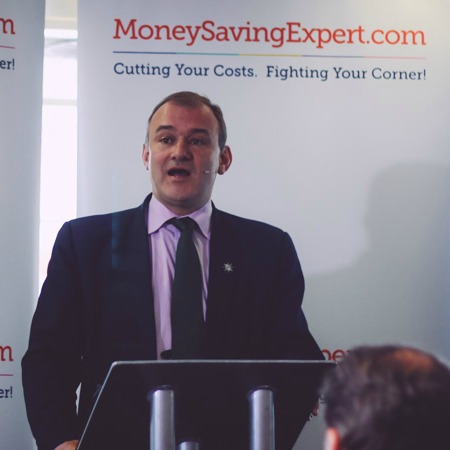 The Energy Secretary was grilled by MoneySavingExpert.com on Npower and Scottish Power service, the Green Deal, 24-hour switching and more at an event held at MSE towers.
Ed Davey, Secretary of State for Energy and Climate Change, yesterday announced during a speech and question and answer session at MoneySavingExpert.comthat an extra £70 million will be made available for households to make improvements such as solid wall insulation and double glazing under the Green Deal cashback fund.
See the Green Deal cash back fund to be given £70m boost MSE News story for the full information.
But as well as the Green Deal announcement, MoneySavingExpert.com grilled the Liberal Democrat MP on misbehaving energy firms, faster switching, price comparison websites and more and we also put questions to him from our users.
Here are the key points:
On energy complaints. Davey said energy companies should take customer complaint levels seriously and warned that if they don't improve, they could face a complete ban and fines. He said NPower often comes bottom of the energy tables for its customer service levels and he "welcomed" news of Scottish Power's 12-day selling ban for failing to meet complaints targets which should encourage it to get its act together.


On competition in the market. Davey said competition in the market from smaller providers both on price and customer service is key. Join our free Cheap Energy Club to see if you can switch and save.


On faster switching. The MP challenged suppliers to bring in 24-hour energy switching, something he's pushed for since the winter of 2013. In January this year, suppliers' bought in faster energy switching from the usual five weeks down to half the time to just 17 consecutive days. See the Energy switches now possible in 17 days, but not for all suppliers MSE News story.


On simpler bills. Davey confirmed that energy companies will need to include QR codes, which are similar to barcodes, on bills by the end of June 2015. This will allow customers to download tariff and consumption data directly from their bills.


On energy efficiency. Davey set out his party's 'double bill cut' policy, which will see households that improve their energy efficiency level by two bands get a ten-year reduction in their council tax bills by up to £100/year, if the Lib Dems win the general election.
As part of the event journalists put questions to Davey, as did MoneySavingExpert.com and its creator Martin Lewis. We also asked you in the weeks prior tothe event to send in any questions, concerns and complaints you had – some of which we selected and put to the MP. Watch the speech below:
Here's the full Q&A and the time each question is asked:
Q) Martin Lewis (ML), 21.50: You talk about 24 hour switching, something I would support very much. We currently have 17 day switchingunder the new faster switching scheme but two weeks of that is a cooling off period.
So if you go for true 24 hour switching, are you going to ditch the cooling off period?
A) Ed Davey (ED), 22.07: We have already been talking about this with Energy UK. The issue is how that two week cooling-off period works.Does it have to happen before you switch or can it happen during that process?
So could we retrospectively switch back after two weeks? Now we need to look through the details but we've seen no barrier to preventing that happening.
Q) ML, 22.30: So you switch, but you'd still have a right two weeks afterwards to come back if you needed to?
A) ED, 22.33: That's what I want to aim for.
Q) ML, 22.35: The Home Improvement Fund – very welcome. We know the last £30m tranche went in 48 hours for the solid wall insulation. Sothis is £70m – on the same speed, you'd assume it would last four days. What's your prediction?
A) ED, 22.50: Well, I'm not going to apologise for having a popular scheme and we want to get the money out the door because we want people'shomes to be better insulated, it's going to save carbon emissions, it's going to save people money and I think it is absolutely the right thing to do.
Q) ML, 23.13: But is this just going to be for the people who are ready and poised for this, which tends to be the more educated people,those people who are more literate, more web savvy?
A) ED, 23.24: Let me just take issue with you there Martin. Our experience is that this is supplier-led. Actually it is the suppliersthat have been knocking on doors and they have been finding people to come forward so it's not been so much demand-led.
I'm not saying there aren't some of your customers who are more savvy, no doubt you will wake them up with emails every morning to tell them to go to theGDHIF.
But the suppliers have been knocking on doors so I see no evidence to suggest that this is skewed.
Q) MSE user Jason Ademola, 24.28: I feel that the elderly are still penalised when it comes to getting the best deals as an email addressis required and a large percentage of the elderly customers I assist have not got email addresses or access to the internet.
Why is it still hard for the elderly to switch suppliers?
A) ED, 24.55: One of the reasons why I have pushed hard on things like collective switching business models and the Big Energy SavingNetwork is because I've been worried that vulnerable consumers have not been able to participate.
I said in my remarks I want to make sure that it wasn't just the internet savvy, I am absolutely aware that not just retired people but some other peopledon't have email and aren't able to get the best deal, and as a Government Minister I have a responsibility to everyone and particularly the most vulnerable sothat's why we've been doing that work.
It's why we've been putting tax payers' money behind the Big Energy Saving Network supporting the wonderful voluntary CAB, Age Concern and others, whichhave been on the front line telling people advice.
But equally I'm not going to roll back the clock, emails are a very important part of promoting competition. One thing that is quite important is that we dohave telephone numbers, so if I can repeat 0300 123 1234 [The Energy Saving Trust], that is a telephone number that I am sure that everybody will be able toaccess.
Q) MSE user Nick Wellington, 24.45: Do you agree with MP's about price comparison sites behaving like 'back-street traders'?
A) ED, 26.23: I was really pleased that the select committee has been looking into this and it is something we've been working on withOfgem. So everybody understands that we are taking this very seriously. We've already seen the consultation on strengthening the code of confidence and I thinkthat is going to be very important.
Another under-reported fact is in the 2013 Energy Act. I legislated to give Ofgem the power to regulate third party intermediaries, which includes pricecomparison web sites. So if it turns out that strengthening the code isn't good enough, we have got the measures there to legislate powers to take action tocrack down on any price comparison web site that isn't behaving.
I know Martin is a particular expert on this area and although your website isn't accredited, there is a very good reason for that and maybe you want totalk about that.
ML says, 27.20: Well, we are not accredited and we can't be because our underlying data is provided from somebody else although the frontend and the results people get come from us, which I think is something that needs to be changed but Ofgem hasn't got there.
On price comparison sites behaving like 'back-street traders' well, my frustration in the evidence session that went in Parliament is that we asked to giveevidence, we were told "no, we are only looking for the fat cats and MoneySavingExpert has always defaulted to all tariffs".
We don't even have a selection where you can choose to only look at tariffs that pay us. Not only that, but the accusation that commission is hidden, well,we've always been upfront about it, told people when they get it, told people how much.
We get about £60 for a dual fuel switch, we give our users £30. We have to pay our suppliers, we probably make around £11 per switch – we are very openabout that. Now, my frustration with that report where it blanketed all comparison sites as the same was that they are not all the same. So it isn't anindustry issue, it's a specific issue on specific comparison sites.
What I would say though, is that the biggest problem we have is misleading information on comparison sites. If you examine the difference between thecheapest that pays on the sites that do it that way, sometimes it's nothing, sometimes it's £10 or £15 – it's a relatively small amount.
If Ofgem enforced the personal projection in the answers, we are going to break ground in this because we think it is bad for consumers, which means itassumes you will stay on the tariff you are on. So if you are on a fixed tariff that ends in three months' time it tells you an average price across the yearincluding the go-to tariff afterwards.
That is what we are forced to give as an answer – it's misleading, it exaggerates the amount of savings – it is wrong. We get more complaints about thatthan anything else and it is an Ofgem rule even though across the industry people have said this isn't the way to do it.
Ofgem has made it even stronger in its comparison code so I think there is a real problem going on there.
ED says, 29.20:The MP's didn't pick that point up did they?
ML says, 29.23: No the MP's didn't because they are getting close to an election and wanted to get in a nice bit of politics by giving aspat over what they see as big fish.
I mean I wasn't there – it would have been a different session had I been frankly because what they did was run the risk of discouraging people to switch –the bigger problem is energy companies charging too much. Price comparison sites misbehaving is a problem but it is nowhere near as big.
ED says, 29.43: Martin I'm really glad you said that because one of the issues on switching and therefore competition was the years ofdoorstop mis-selling. In my surgeries in my constituency, I spend five to eight hours speaking to my constituents and a significant number of people say theyswitched and got a worse deal, often they were the elderly – that is why doorstep mis-selling had to go.
Doorstep mis-selling did huge damage to people's confidence and trust in the energy suppliers and we are still living with the echoes of that. Therefore itis a bit damaging if we paint all price comparison websites as bad. Because just as you said, actually many of them are doing a good job and we do need to makesure that people have more confidence switching if we are going to hold the energy companies to account.
ML says, 30.36: It was a difficult report that came out. When you look at the bias in the market and you write a report on the behaviourof the worst in the market that's not necessarily a fair picture of what everybody is doing.
Q) Mail On Sunday, 30.55: Do you feel that the criticism over price comparison web sites has damaged people's appetite to switchespecially the people that have never switched before and don't engage regularly with this topic?
A) ED, 31.20: I don't know if it's damaged confidence. One of the reasons why Ofgem is taking the measure it has to strengthen the codeof confidence is to make sure it doesn't. It's one of the reasons why we've legislated in the 2013 Energy Act.
I think far more damage was done in the last decade by doorstep mis-selling. I think that really did undermine it. That's the thing we are repairing but Ithink we are touching on the comparison websites and a fair way to making sure we can distinguish the way Martin talked about and I think it shouldn't get inthe way of the switching that we need to see.
Essentially people go shopping, certainly every week and most days, they are used to thinking about who is giving them the best deal, but in utilityservices, particularly where there is competition they do that less and that actually undermines competition.
We are trying to encourage people given that energy bills are quite a big slug of people's expenditure, we want to try to change the culture so people doshop about for energy. That's why Ofgem's web site "be an energy shopper" was named like that. People need to start thinking about how they can save, how theycan use the benefits of markets to get better deals.
Q) Mail On Sunday, 31.13: Do you have concerns about Ofgem's ability to regulate effectively?
A) ED, 32.45: We've given Ofgem the powers now in the 2013 Energy Act. It will review it and it will listen, I hope, tocriticisms that people like MoneySavingExpert.com are making. Ofgem want to serve people and I think in many ways it have shown teeth in the last few yearswhere it put big fines on the energy companies where they misbehaved and I think that should be reassuring to consumers.
One of the things I did in the Energy Act 2013 was to make sure those fines went back to the consumers. Previously the fines had gone to the Treasury –crazy. I want to make sure consumers get the benefit of that compensation.
Q) Mail On Sunday, 33.32: It does seem like it's a cycle of a fine, a slap on the wrist but nothing changes in terms of the culture. Ifyou continue to do something wrong, fair enough they paid for it in the end but who has paid for it consumer wise?
A) ED, 33.43: The key is competition and the big six are loosing millions of customers. You've got two tools – you've gotregulation that is now getting tougher compared to what it used to be – we've never seen the levels of fines that we've had in the last few years from Ofgem –that has to be welcomed, but you also use competition as a tool.
That is proving very effective. One of the reasons why I so strongly support the independent Competition Market Authority investigation is that if it findsabuse of market power it has some very strong teeth to act.
ML says, 34.21: I don't know if you've heard this morning that Ofgem banned Scottish Power from selling for 12 days –what's your reaction to that?
ED says, 34.27: I welcome it. It's their job.
ML says, 34.30: Is 12 days enough?
ED says, 34.32: I haven't studied the case. You have an independent regulator for a reason.
ML says, 34.35: I can tell you, Scottish Power and Npower complaints are horrendous. Over 50% of their users say they are poor. We getpeople who over a year after they have left are getting bills even though they've given meter readings.
We get people who are panicking and put in penury by Scottish Power and Npower specifically. The reaction I've had this morning when I tweeted aboutScottish Power being banned for 12 days was why wasn't it longer? What's going to improve?
ED says, 35.06: My understanding – but it's only just come out this morning, and the independent regulator doesn't tell the Secretary ofState exactly what it does every day – is that if things aren't improved then they can come back for more.
That's often the way these sanction regimes work. They give people a chance to put things right and if not they'll come after them for more. If ScottishPower doesn't get its act together, then my understanding is Ofgem will come again.
Q) MSE user Malcnascar, 35.47: Mr Davey, can you tell us how often you have switched your own energy supplier and if you have, how easydid it appear to be and were the transactions smooth and error free?
A) ED, 36.28: Personally I've switched twice in the last three years. Both times with collective switches. Seeing as I championswitches I want to show that I used it. My first one was with the Big London Energy switch and I saved over £200 and then I switched with the Big Deal – sorryMartin. Next time it will be with you.
ML says, 36.52: That's alright. It was slightly more expensive once you take the cash back into account.
ED says, 37.03: So, I've switched twice and both times it was really really simple. No problems at all.
ML says, 37.10: On collective switching the one thing we've noticed is if we compare who's doing a normal switch by doing a comparisoncompared to who's doing it when we do a collective switch it massively increases the number of first time switches. Up to 75% in the last collective switch soit is very strong for market disruption, it does work.
ED says, 37.30: I'm really evangelical about collective switching. Not only does it get the first time switchers whootherwise wouldn't do it and within that the very vulnerable consumer bringing cheap energy together, one stipulation on the grants was that the people gettinggrants had to really reach out to the fuel poor because that's who needs to be benefiting from switching.
But it has actually has a big effect on competition. Some of the big energy companies, they sort of hold onto their customer base but collective switchinghas opened quite a significant number of customers up to the competitors in one go.
So that is one of the reasons why we have seen some of the smaller energy suppliers grow more quickly than they otherwise would have done. Collectiveswitching is disruptive and the big energy companies don't like it so I think that is good.
Q) MSE user Hoof hearted, 36.01: Why are you doing nothing to bring the worst suppliers for complaints into line? Npower and ScottishPower are a shambles but nothing is done to put things right. A ban on taking on new domestic customers may focus the mind.
A) ED, 38.15: I actually had Npower in about six months ago because its record was shocking. It was right at the bottom of allcustomer service tables, it was not improving quick enough, Ofgem had been after it.
Ofgem actually threatened a complete marketing ban, it wouldn't be able to market for many months and so Ofgem was on its case. I personally had PaulMassara in to go through what its plan was to improve things. Scottish Power we heard about just now.
We do really take these seriously. Obviously Ofgem and the Ombudsman are the front line to deal with these complaints, but again it's why competition is soimportant. If you look at the surveys on customer service by Which?, CAB, I'm sure there are some done by MoneySavingExpert.com, but if you look at thosetables the big six are at the bottom.
Npower is right at the bottom of the big six. It's the small suppliers that we are encouraging that are actually competing not just on price but on customerservice so competition is one of the key ways of doing this as well as strengthening the arm of Ofgem.
Q) MSE user Kathryn, 36.16: It's great to speed up supplier transfer time, but what about final bills/credits/meter readingdisputes?
A) ED, 39.31: If you look at the complaints going to the energy ombudsman, 82% of complaints are about bills. One of the reasonswhy I think we need to get tough on that, and one of the reasons we need to roll out smart meters is because we believe smart meters will completely reduce thebilling complaints.
We think about one million smart meters in non-domestic and domestic households have been rolled out, that is the first generation smart meters but theearly results from that is that the satisfaction rate of consumers with smart meters is significantly higher than those with analogue meters and it is partlydue to the fact that bills are accurate.
ML says, 40.16: Just to say that the real message that we get is that when you go for 24 hour switching which we approve, you forgot toinclude a final bills credit and meter read dispute within that process, and that's a process that's got to be dealt with quickly.
Q) The Independent, 40.32: The problem we have is that the people who are paying too much are all those on variable tariffs so wouldn't itbe simpler to ban variable tariffs?
A) ED, 41.20: I am not into regulations banning tariffs. I think it is important that people are competing. But you areabsolutely right the analysis shows that people on variable tariffs over time tend to get poorer deals than those who switch regularly on fixed prices.
It's one of the reasons why we are doing everything we are doing to encourage people to look out for the best price. I think banning variable tariffs is notthe way to go. I think what we are doing with faster switching, simpler bills, stronger codes of confidence for price comparison websites all back that this isthe right way to go.
Q) The Independent, 40,48: I am getting more complaints from readers about being badly treated by the energy companies. It's not so muchthe prices. They are ignored. I had a reader last week, a 92-year-old reader, whose billing went from £200 to £2,000.
She spent about six months with her daughter and British Gas trying to sort it out, got nowhere. It took me calling up British Gaspointing out it was complete nonsense. I got it sorted in one day. Now, these things can get sorted quickly but none of the big companies seem capable of doingso or have common sense about it.
A) ED, 42.04 : In my surgeries I do get exactly the sort of things you are talking about. I have several examples of energy companiestreating my constituents really badly and nothing makes me more cross.
One looks at all the sort of ways of sorting them out, whether it's going through the Ombudsman, whether it's getting the Regulator involved, of course Iget involved, which can be quite effective sometimes, when you are Secretary of State and their local MP to get things sorted.
But it should not be like that. And that is one of the reasons why we've been trying to strengthen the arm of Ofgem – but also competition and I make noapology for coming back to competition. We've got to make it happen much quicker. I think we've delivered on that.
One of the things we did last summer was to get all the small suppliers in and talked to them to say what is it that you want? The reason we did that isbecause my department previously talked to the big six and had a representative for small suppliers.
My department was not listening to the needs of the small supplier and I didn't want that to continue. I see the small suppliers as the future. I've saidpublicly that I want to see the market share of small suppliers go from 10% to 30% because that will really shake these people up for misbehaving and treatingpeople badly – my constituents, your readers.
Competition will do that so I wanted to make sure we took every barrier out of the way – even before the CMA report. The CMA will give us an 18 month rootsup analysis with really hard data. We're doing everything we can and the small supplier conversations we are having now are ensuring that new policies takeconcerns into account.
We are not putting any barriers in the way. If there are any small suppliers listening, if there are any other barriers you've got – come and see me becauseI want to take them down – I want competition.
ML says, 44.15: There needs to be something done about changing direct debits. You've [The Independent] had a 92-year-old reader. I wasdoing a road show where an old chap who was partially deaf came to me and his direct debit had been increased from something like £80 per month to £180 permonth and he didn't know why and didn't know what to do about it.
I asked what the supplier said. He said he hadn't called them. I said why haven't you called them? He said why? I'm a bit deaf and I'm a bit scared. So Isaid get me on the phone, and of course it was sorted (they knew it was me – they clocked my voice), and I said I want an ex-gratia payment, and they said howmuch do you want to give him Mr Lewis?
The problem is, ultimately there are many people out there who won't make that call because they are scared and there is no complaint system in the worldthat fixes that except for better systems that say that direct debits like that can't be right.
ED says, 45.12: What we've got to do Martin is look at every tool in the book. Competition, regulation – I would then get back to the BigEnergy Saving Network, which I'm really proud of. It's got no coverage at all but it's actually helped more than 100,000 people this year.
Ensuring that we have given training to CAB, Age Concern and to others to be on the front line. We've probably spent over £2m over the past few years – thebest £2m I've spent as a Secretary of State because it's helping the most vulnerable and those are who we need to be thinking about.
The 92-year-old granny, my lovely late grandmother who died when she was 90 – I dealt with her care home, bills and all the rest of it, and when I look atpublic policy when I was Consumer Affairs Minister, I looked at problems through the eyes of my late grandmother because if the systems work for an elderlylady who has poor sight, is frail, has got osteoporosis and all the rest of it then they are working for everybody.
That should be the test that big energy customers have to meet.
Q) MSE user Paul Smith, 46.30: Why are insulation grants for walls only available for those insulating 51% or more of thewalls?
A) ED, 47.18: That rule in the GDHIF has been there for a good reason. If we are given tax payers' money we want to make surethey are doing as many walls as possible. Retro-fitting Britain's leaky houses – we don't want to do it wall by wall. We want to go for it and the 51% rule inthe GDHIF was there for that purpose.
What I will do is go away and look at it. It may be that in some cases it just isn't right. There could be some cases where it's difficult to put insulationon three walls for various reasons. There are some, particularly properties in conservation areas, where it can sometimes be difficult.
Q) MSE user Chris Ewer, 46.45: Why aren't more government grants available to encourage householders to installheat pumps?
A) ED, 48.39: On renewables, first of all we do have the renewable heat incentive which is a world-first. That is actually goingrelatively well and we need to keep it under review.
We want to reform the Green Deal, so the Green Deal isn't just about energy efficiency but it's about renewable heat and renewable electricity. We want toturn it into a green loans scheme and that will give greater access for renewable heat technologies to people who have got less money and can't payupfront.
I think it is important we develop policy in these innovative areas and we ensure that people on low incomes can access renewable heat.
Q) MSE user Phillip Dunne, 45.54: Whenever the price of electric or gas increases members of Parliament very quickly denounce the rises asprofiteering and threaten all sorts of measures against the power companies if they do not pass on price cuts to customers.
Never, ever have I heard a word about the exorbitant price of central heating oil. Living in a rural area with no main gas supplyoil is our only alternative. Why is heating oil never mentioned when power prices are discussed?
A) ED, 49.27: When you think about renewable heat you think about people in rural areas, because it is expensive to heat yourhome off the gas grid, because you have only electricity to heat, which is more expensive than gas or using solid fuel or using oil.
One of the things that came through in our fuel poverty strategy following from the new fuel poverty that Professor John Hills came up with was that some ofthe deepest fuel poverty is in off gas grid areas.
That upsets us that they are heating oil and other non gas ways can be more expensive. So it's something that we've really taken on board.
On the strategy that we published yesterday – we published our first map of all the properties around the UK that are off gas grid we are working with theindustry and fuel poverty advisory group and want to get a much better understand of where the off gas grid problem is.
We've already started initiatives. We've got the central heating fund, which is one of the ways in which we will improve energy efficiency and reduce billsfor people in fuel poverty living in off gas grid homes.
Let me not duck the specific question behind that gentleman's question. OFT did a review of that market – it found that in the vast majority of the countryit was competitive, although there were some questions where there was only one supplier.
In the vast majority of the country that OFT found that there was competition. One of the things we have done is we've really encouraged collective purchaseof oil. Not just collective switching but collective purchase and we've had a lot of oil heating clubs.
They've actually been around for quite a while in some areas but we've encouraged the support of that and collective purchasing power to help them. It is areal issue.
ML says, 51.35: What about a regulatory regime on heating oil?
ED says, 51.38: Well, one of the reasons we haven't bought it under Ofgem is because of the OFT report. Before you put something intoregulation you've got to have an argument as to why it needs regulating. The OFT did not give us the evidence.
Q) Energy Live News, 52.05: From the business side the reputation isn't as bad. Business switching is something I know you've been lookinginto, where do you think that lies? Are we doing enough? And why is there such a disparity between the ways suppliers treat customers andbusinesses?
A) ED, 52.33: Well there have been some problems in the business market and we have acted on that. There were things like roll overcontracts. I've met a number of smaller businesses that have had a pretty raw deal from their energy suppliers and I don't want anyone listening to this tothink that I think everything is hunky dory. I really don't think that at all.
We need to watch them because some of the small businesses really need the support and there is an issue whether they have been getting support. We'vecertainly acted but maybe we need to do more. Equally I think we ought to have done more on energy efficiency for small businesses.
We had hoped that the Green Deal would have a non-domestic element to it but as we know the Green Deal has had a few teething problems so we need to try tore-look at that to make sure that the finance is there. So there has been some improvement in the market but I think there is more to do.
Q) The Telegraph, 53.35: I'm interested to hear you saying that banning variable tariffs is not the way to go. We've heard some quiteinfluential figures on why we need some kind of backstop regulated standard tariff – are you opposed to that?
Do you think switching is really the only answer and a sufficient answer?
And if switching does take off on some grounds on an unprecedented scale, how do you see that panning out for the offers that areavailable in the market? Will the cheapest deals disappear? Variable priced tariffs come down and everything converge in the middle?
A) ED, 54.16: Markets are dynamic and I certainly am not going to second guess. What I am keen to do is listen to what the Competitionsand Markets Authority say. If the CMA argue for backstop regulatory powers or something like that based on an 18 month investigation, then I'll go with itsrecommendations.
There is a huge range of tools available for the CMA – it is independent, they are the experts, they are looking at this in the depth that is has ever beenlooked at before. I think if you read their papers that we have seen so far it is ultimately pretty supportive of the drive to switching.
Q) MSE user Terry Goodall, 55.40: I very recently switched to the lowest cost energy provider available. From April the daily standingcharge for gas rises by a massive 279% and electricity rises by 32%. I seem to be being targeted because I am a low energy user. What is yoursolution?
A) ED, 56.04: On standing charges the Ofgem retail market looked at this in some detail. It looked at whether it should get ridof standing charges. It concluded that wouldn't be in consumer's interests.
There are some tariffs out there that he [Terry] may get a better deal on and maybe he [Terry] needs to get some advice from MoneySavingExpert.com on ifthere is a better deal for a low energy user, because there are some tariffs that are designed for low energy users.
ML says, 56.37: It gets a little more complicated if you've got variable usage, which is the problem. We have a guide called 'no standingcharge tariffs', which explains that as opposed to on a comparison site.
Q) MSE user Footyguy, 55.53: What can the government do to force the energy providers to cut prices proportionately when their wholesaleprices fall, in a similar speed to that they raise prices when wholesale prices rise?
A) – ED, 56.48: The wholesale prices – this is the so called 'rocket and feather' issue – that they rocket up when wholesale prices aregoing down, then they just come down slowly like a feather when they are going in the other direction. I think it is a serious issue.
The CMA is looking into it in detail. It's been looked into before. A few years ago the evidence didn't seem to stack up but there is a bit more evidencethat this is a serious problem. I would say (wouldn't I?) that competition is beginning to be an answer to this.
Effectively this is about hedging and if you are a big energy supplier and you have 7 million customers you are looking to make sure you are hedging andsmoothing the prices for the customer because if you give them what the stock market – the stock market wholesale prices change all the time.
Last year it went down by 15% then went down then went up – it is all over the place. So the hedging issue is why it is there but because we have now gotmore competition you've got different companies competing on hedging strategies.
So you are seeing some companies that aren't buying two or three years ahead that are actually buying much shorter in advance, so that's giving customersmore choice in situations where wholesale prices are going up.
Competition is again, I'm afraid part of that but if there has been malpractice the CMA has certainly got the experts and the ability to get to the bottomto see if there has been wrong doing. And if there has been wrongdoing it has serious teeth to act. That is why this is such an important development in energypolicy.
ML says, 58.45: Do you think that people will believe the CMA? This is the problem, you've had so many of these reports that say thereisn't unfair process going on in the energy market that the public don't believe them and because the public don't believe them, that means there is no trustin the various reports that come out.
There is a real disjoin between official reports and public sentiment. How are you going to fix that?
ED says, 59.04: I think trust is a big issue in society at large, whether it is about trust in bankers, trust in politicians, trust inenergy markets, trust in journalists. There is a trust gap in modern society. So, you are asking quite a big but subtle question.
I would of course argue that people like MoneySavingExpert.com and the Big Energy Saving Network are there to help bridge that gap but one of the reasonswhy this particular report is different and why I'm calling everyone to get behind it is because it is by an independent group of experts.
Maybe people will be cynical but these are completely independent. Britain has one of the best, if not the best competition regimes in the world. If thereis a problem these guys will get under it and I think one of the reasons why I was so keen to establish it is because I think it is one of the mechanisms thatcan rebuild the trust that has been lost.
This is a roots up analysis. It will enable people to say at long last we have go to the bottom of this. Some people will always be cynical but I reallyhave a lot of faith in this and I urge other people to look at the strength and independence of this investigation.