The super-cheap energy tariffs we've seen over the last few months are starting to disappear, exclusive MoneySavingExpert.com research has revealed. So while winter energy bills may seem a distant prospect amid soaring summer temperatures, now could be your last chance to lock in a cheap price for when the cold comes.
We crunched the numbers and looked at the cost of every tariff since April which is under an average £800/yr based on typical use – that's dozens of different tariffs in total. And while the cost of the very cheapest tariffs fell earlier this year, they now appear to be heading back up.
Back in May, someone with typical usage could get a one-year fix for just £724, and there were four other suppliers offering tariffs under £750/yr that month. Today the cheapest on the market is £758/yr.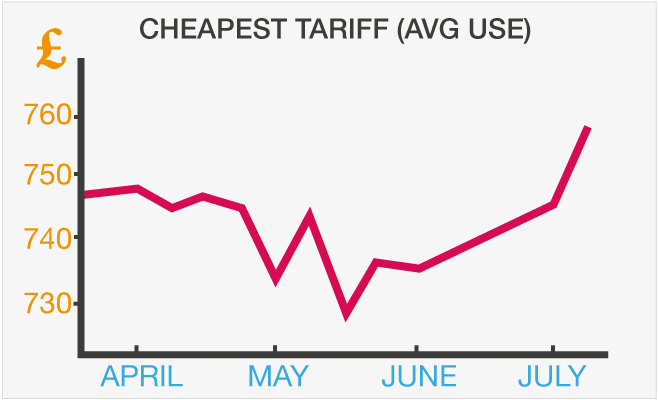 Act NOW to save £300/year
While the price of the very cheapest tariffs may be rising, for most people there are still huge savings of more than £300/yr to be had. That's because most people are massively overpaying – with 70% still on a big six provider's (British Gas, EDF, E.on, Npower, Scottish Power and SSE) standard variable dual fuel tariff, which costs an average of £1,063/year on typical usage.
The key is to act now before more of the cheapest deals disappear. Right now, as above, the cheapest tariff is an average £758/yr based on typical use (that's from Avro Energy and it's a one-year fix, so your rate's locked in for a year, though of course what you pay depends on usage). Yet as always, the tariff could be pulled at any time.
Check if you can save £100s on your energy by:
Doing a quick comparison via our free Cheap Energy Club – you'll also get an extra £30 dual fuel cashback (£15 single fuel) if we can switch you.
Using our top picks comparison, where we include full reviews and help about which firm and tariff to choose.
If you really don't want to switch firms, while you won't be able to save as much, you may still be able to switch to a cheaper deal with your current provider.
Why are the cheapest deals disappearing?
We spoke to a number of energy experts about price trends. They told us wholesale prices – what energy providers pay for gas and electricity – are rising, plus the weakened pound following the Brexit vote means imports cost more. There are also concerns not enough gas is currently stored in the UK so more imports than usual may be needed. Changes take time to feed through, so this may be just the start.
Alan Richards, head of risk management and research at Mitie Energy, says: "Wholesale UK gas and power prices have increased by 40% and 29% respectively since the beginning of April. This is in part due to a rebound [eg, rise] in oil prices during the same period thanks to plans by OPEC [the Organization of the Petroleum Exporting Countries] and Russia to cut production to support prices – although these were later thwarted – and then supply disruptions in Canada and Nigeria."
He adds: "The UK's only large gas storage facility is currently experiencing problems, meaning this facility may not be filled ahead of winter when it is needed. This would leave the UK more dependent on gas imports, particularly if we have a colder than usual winter and demand is stronger.
"Since half of the UK's power supply currently comes from gas-fired plants, these concerns around gas storage have also helped power price rises."
Meanwhile, Tom Lyon, energy expert at uSwitch.com, says: "Recent concerns regarding UK energy supplies, along with market uncertainty following the EU referendum result, has helped increase wholesale prices in the last three months. It remains to be seen whether this is just a blip, however."
And David Cox, director of London Energy Consulting, says he thought recent underlying rises could be "partly Brexit-related" and linked to the resulting weak pound, though he added that prices could fall "long term".

How does switching work?
If you're worried about switching, we've full info in our Cheap Gas & Electricity guide, but here are the five key need-to-knows:
There's no downtime when you switch. Your electricity and gas stay on.
It's the same gas, same electricity, same safety. The only things that change are customer service and price.
To get the lowest price, pay by monthly direct debit. Just ensure you give regular meter readings.
If you're in credit when you switch, the provider should give you money back. If not, see Get Credit Back.
If your existing tariff has exit fees, factor these in. Do note, they can't charge 'em in a fix's last 49 days.
Isn't it worth waiting for MSE's next collective switch?
We aim to do another collective switch soon – hopefully undercutting the market's cheapest when it launches.
Yet if current trends continue, it may be more expensive than today's cheapest. So it's a wait-and-see.