A Vodafone customer has told how he racked up an astonishing £10,500 bill after exceeding the data allowance on his Wi-Fi dongle, which he mistakenly thought had been capped. If you use broadband on the go, beware – some Vodafone dongle customers don't have any caps on their usage in the UK, even though all providers cap dongle usage abroad.
Stephen Utting, a carpenter from Cardiff, told MoneySavingExpert.com he racked up the bill on a Vodafone dongle he first received in June last year.
A dongle is a small wireless device – or a USB device you can plug into a computer – which gives you a mobile data connection, so you can get the internet when you're out and about.
After exceeding his original 1GB monthly data allowance, Stephen contacted Vodafone in August, and his allowance was doubled. Believing his usage was capped, Stephen then continued to use the dongle to stay connected while travelling between carpentry jobs – and his colleague also used it to stream programmes on services such as BBC iPlayer.
However, Vodafone now says his usage wasn't capped and insists there's no evidence he was offered a cap, and Stephen was instead accruing thousands of pounds in charges. He says he only became aware of the costs when he phoned up in December to ask how much his bill was.
Distraught Stephen says his elderly father – whose mobile phone is on the same account as the dongle – was distressed to receive messages from Vodafone regarding the debt. Stephen told us: "I'm beside myself with worry. I'm not sleeping [due to] anxiety at how Vodafone have treated me, after being a customer for over 25 years."
For full help in choosing a Wi-Fi dongle, plus what to watch out for, see our Mobile Broadband guide.
How Stephen ran up an £10,500 bill
Stephen (pictured) first got his dongle on 6 June 2016. It offered 1GB of data for £10/month – and in the first month he stayed narrowly within that limit. But in August he phoned Vodafone to enquire about his usage and found he'd used more than double his allowance the previous month, so he had his usage upped to 2GB, costing £20/month.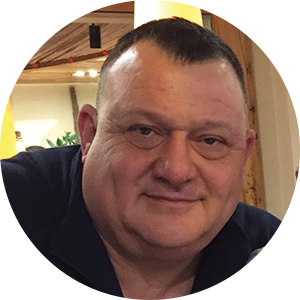 It's not clear how the misunderstanding over data capping arose during that call, but a spokesperson for Vodafone told MoneySavingExpert that caps were not available on Stephen's pricing plan, which he'd signed up to in June – though they're now available to "new and upgrading customers".
In any event, Stephen far exceeded his allowance in every subsequent month, and used some 200GB of data in November – a huge amount, though consistent with someone watching programmes through a streaming service, as Stephen's colleague was doing.
Because he had exceeded his allowance, Stephen was charged an eye-watering £6.50 for every 250MB used beyond his allowance. To put that into context, streaming a two-hour HD film on Netflix under that out-of-allowance price plan could use up to 6GB of data, costing £156.
Vodafone says it sent 12 notifications to Stephen's dongle during October and November to alert him to the large amounts of data he was using.
But these were only viewable through a Vodafone data-monitoring app which can be installed on browsing devices (such as PCs, laptops, phones and tablets). Vodafone says customers are advised to install the app in an instruction manual included with the dongle, though Stephen says he wasn't aware he needed to install the app to monitor his usage.
The dongle itself also displayed a green warning light to show that messages had been sent – though Stephen says he didn't know what this light signified.
What does Vodafone say?
Vodafone says Stephen's bill is accurate, but it's offered him a 50% reduction on it as a goodwill gesture.
A spokesperson told us: "In October and November he used a significant amount of data – well in excess of his monthly allowance. A data cap was not available on this particular price plan and product and we can see no evidence that this was agreed. We sent him 12 alerts in October and November to advise him of his data usage which would have been displayed on screen."
However, Stephen says he's determined to challenge the bill via Ombudsman Services because he believes he was sold a product that was totally unsuited to his needs. He told us that he hadn't realised when signing up that 1GB was such a low amount of data, and he feels he's been "misled down the avenue of technology".
Dongle users beware – some don't have usage caps in the UK
While Vodafone says it now offers a cap for new and upgrading dongle customers, Stephen's price plan didn't offer a cap. Vodafone told us that only customers who joined it or upgraded to a new package after 1 September 2016 would be eligible to request data capping.
But when we contacted three other major dongle providers, all told us they do offer caps:
O2 told us: "Once our pay-monthly mobile broadband customers have used their monthly data allowance, the service will stop. They'll need to buy a data bolt-on if they want to continue to use mobile data until their next monthly allowance begins."


Three told us that its out-of-allowance charge for dongle data is 1p per MB (10p/MB for legacy plans) and that all customers benefit from a £75/month default cap to minimise "bill shock", though they can choose to set it at a different level instead.


EE sends out messages to customers when they reach 80% of their data allowance, and when they reach 100% they're redirected to a top-up page and can't use any more data without buying a bundle.
If you use a dongle from any UK provider – including Vodafone – abroad, you're protected by a data-roaming cap of €50 (about £43) per month – unless you opt out or have agreed to a different limit with your operator. You'll also receive a warning when you reach 80% of this agreed limit.
Bizarrely though there's no standardised cap for dongle usage in the UK – meaning ironically some users may actually be better protected from bill shock while data roaming in Spain, the US or China than they are at home.
'No one should be able to rack up such an absurd sum'
Nick Durrant, consumer and technology writer at MoneySavingExpert, says: "Regardless of who's at fault, no one should be able to rack up such an absurd sum for data usage. There's clearly been a miscommunication here and it's disappointing to hear that Vodafone is insisting that Stephen pays even 50% of the bill.
"What's also ludicrous is that in some cases dongle users are better protected against this kind of bill when roaming abroad than at home. Mobile providers should cap out-of-allowance data costs by default for all customers in the UK as well as overseas."
How to protect yourself from huge data charges
If your provider or pricing plan doesn't allow you to cap your data, and/or you don't keep a strict eye on your usage, there's always a chance you could be confronted with a nasty bill.
But if you need access to the internet while out and about, there are steps you can take to protect your pocket:
Check whether you really need a dongle: You may be able to get all the data you need using Wi-Fi hotspots or tethering.
Make sure your dongle's data plan matches your usage: Some providers, such as EE and Three, provide data usage calculators. Be warned though – these might push you to take a particular plan, but it's always worth checking for the best price.
Regularly check your data usage: Make sure you know what data alerts your provider offers – such as texts, emails or warning lights on the dongle itself – and how you can access them.
Haggle, haggle, haggle: Negotiate with dongle providers to bag the best deals.
For more help, see our Mobile Broadband guide.